Home
EXPERT OR NOT?
In the two days of his evidence, Serbian historian Branimir Jokic contested the report of Andras Riedlmayer, a US expert on the Ottoman cultural heritage. Riedlmayer's report dealt with the destruction of mosques and other religious buildings in Kosovo in 1999. Today, as his evidence drew to a close, Jokic stated that he didn't consider himself 'an expert with the expertise' in Muslim religious buildings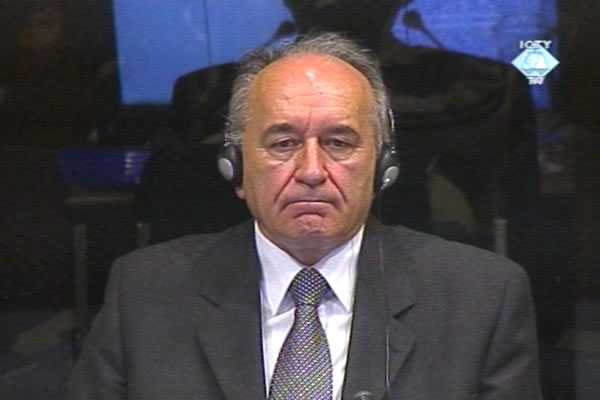 Branimir Jokic, expert testifying for the defense in the trial for crimes in Kosovo in 1999
In 1998, Branimir Jokic was appointed director of the Pristina Museum. He is still the director; only the museum was moved to Belgrade when the Serbian army and police withdrew from Kosovo. The defense of the six former Serbian officials charged with crimes in Kosovo in 1999 asked Jokic to prepare an expert report contesting the findings of Andreas Riedlmayer, American expert for the Ottoman cultural heritage in the Balkans, and his assistant Andrew Hersher. Their report, drafted for the prosecution, concluded that 225 out of a total of 607 Muslim religious buildings were destroyed partially or completely during the NATO campaign in Kosovo. They were not destroyed by air strikes but were blown up with dynamite, destroyed by shells or set on fire.
In his study, Jokic primarily found fault with Riedlmayer's 'wrong methodology'. As Jokic put it, this approach could result in incorrect findings. He believes that the American experts didn't spend enough time in Kosovo to be able to register all the damaged buildings. Another issue he raised was that of using 'ethnically biased sources', as Riedlmayer and Hersher worked only with the local Albanians when they visited Kosovo in 1999 and 2001. Jokic found most of Riedlmayer's report to be 'useless' because some of the religious buildings listed there didn't have proper land registry papers and this made it difficult to identify them.
In the middle of Jokic's examination-in chief, the presiding judge said he was 'unhappy with Jokic's expert evidence' because he did not say whether the religious buildings in Kosovo listed in Riedlmayer's report were destroyed or not. 'I am not challenging the fact that some mosques were destroyed, but because of poor methodology the American experts used in their report it is not possible to establish which mosques were destroyed', Serbian expert tried to make himself clearer.
In his cross-examination, the prosecutor tried to show that Jokic lacked expertise because before his appointment as the director of the Pristina Museum, Jokic was as a high school teacher and a manager in a publishing company. According to the witness, this is not controversial at all because when he applied for the post of the museum director he had a vast experience in history, a discipline that 'deals with things from a broad aspect'. The mystery of Jokic's expertise was solved, it seems, when at the end of his six-hour testimony the presiding judge asked him if he considered himself an expert for Muslim religious buildings. 'I am not an expert with the expertise in that', the witness was unequivocal.