Home
CONTROVERSIAL DOCUMENT FROM YUGOSLAV ARMY ARCHIVES
General Dragoljub Ojdanic's defense presents an expert report drafted by Belgrade professor Zivojin Aleksic, to challenge the credibility of a report on the crimes against Kosovo Albanians authored by General Nebojsa Pavkovic and allegedly sent to the VJ General Staff in May 1999. Pavkovic's defense in turn challenges the expertise of this witness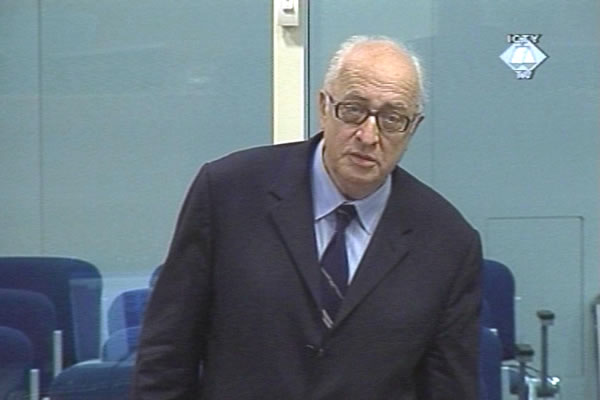 Zivojin Aleksic, defence witness of Dragoljub Ojdanic
Former professor of the Faculty of Law in Belgrade Zivojin Aleksic explained today to the Trial Chamber how after retiring he devoted himself to handwriting studies and become an expert in the field. He was called by the defense of Dragoljub Ojdanic, former chief of the VJ General Staff, to clarify claims he made in his expert report on the document allegedly registered at the military archive on 26 May 1999. This document was the topic of heated debate by the defense teams of General Dragoljub Ojdanic and Sreten Lukic on the one side and Nebojsa Pavkovic on the other.
The report was drafted by General Pavkovic who, as the 3rd Army commander, reports to the General Staff and its chief, General Ojdanic, the widespread crimes committed by the police against Kosovo Albanians. If the document is authentic, it might alibi Pavkovic, and at the same time shift the blame to the Interior Ministry and Sreten Lukic. It might also show that Ojdanic was informed about the developments in Kosovo but failed to prevent crimes and punish perpetrators. According to Ojdanic's defense counsel, this document is a forgery inserted into the military archives several years after the NATO campaign, when Pavkovic was the Chief of the General Staff.
In his expert report and today's evidence, Professor Aleksic said that he had studied the manuscript and the stamp in the military archives registry. This led him to conclude that the controversial document was not registered by the same person. In his view, this might indicate that the document had come into the archives later. It is obvious, Aleksic noted, that all the other documents were registered by Sergeant Dusan Mladenovski who worked in the VJ archive during the NATO campaign; all but the one at issue, which was registered with a different stamp and by a person with a different handwriting. Mladenovski testified in April 2008 in Ojdanic's defense claiming that the document in question was 'registered irregularly' in the military archive.
In his cross-examination, General Pavkovic's defense counsel challenged a number of details from Aleksic's expert report and his credibility in general, accusing him of having translated foreign authors and published their texts under his own name. Aleksic said that the Serbian experts would have reacted a long time ago to any such plagiarism, noting that those authors could in fact have copied his work and not vice versa. Pavkovic's defense decided not to call its own handwriting expert, despite previous indications it would do so.
The trial of the six former Serbian politicians and generals charged with crimes in Kosovo continues tomorrow with the evidence of another defense witness. The first witness called by the Trial Chamber, VJ colonel Milorad Djakovic, former close associate of general Pavkovic, is scheduled to testify late this week.