Home
EXPERT VERSUS EXPERT
US statistician Eric Fruits contested the findings of his colleague Patrick Ball on behalf of the defense teams of the Kosovo Six. Ball testified for the prosecution stating that the increased number of Albanian refugees and Albanians who were killed in 1999 coincided with the increased activities of Serbian army and police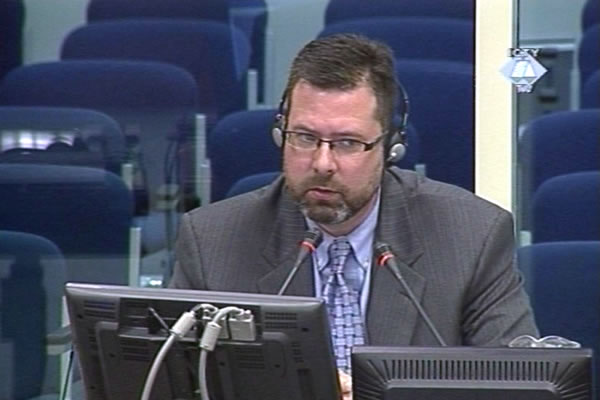 Eric Fruits, expert testifying in the defense of six former Serbian officials indicted for war crimes in Kosovo in 1999
The defense teams of the six Serbian former political, military and police officials charged with crimes against Kosovo Albanians in 1999 hired Eric Fruits, a US statistician, to 'evaluate' the report drafted for the prosecution by another US statistician, Patrick Ball. Analyzing Ball's report, Fruits came to conclusion that none of Ball's key findings could be supported. Among other things, Ball concluded that the number of Kosovo Albanians who were forced to flee their homes or were killed rose in the times when the Serbian army and police were more active. The figures were 'down to zero' when the government in Belgrade declared a unilateral ceasefire.
Fruits claims that the data Ball had at his disposal about the activities of the VJ, Serbian MUP, NATO and the KLA were not valid. Therefore, Ball's results were not valid either. In Fruits' opinion, Ball was wrong when he concluded that the Serbian security forces 'implemented a systematic campaign of killing and persecution' of Kosovo Albanians.
In his cross-examination, the prosecutor asked the American statistician if he himself had tried to find out why the Albanians moved out from Kosovo, given that he claims that Ball's results are wrong. The witness said he didn't attempt to do that, noting that the defense hired him not to reach conclusions but to analyze Ball's report.
There will be a two-week break in the Kosovo Six trial, until 13 May 2008, when other defense expert witnesses are scheduled to begin their testimony. Among the four expert defense witnesses that are yet to testify is Zoran Stankovic, forensic medicine expert and former Serbian defense minister.