Home
HOW TO DEFEND LUKIC FROM HIMSELF
Expert witness testifying in the defense of police general Sreten Lukic today had to defend the accused from himself: before he was indicted, Sreten Lukic was interviewed by the OTP investigators. He told them that in 1999 he had been one of the commanders of the Special Units of the Police (PJPs). The defense has been contesting this claim vigorously throughout its case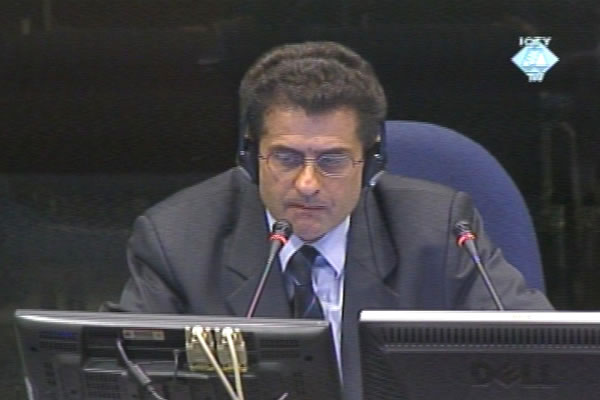 Branislav Simonovic, defense witness for Sreten Lukic
At the trial of the Kosovo Six, the working week ended with the cross-examination of the second-to-last witness called by General Sreten Lukic's defense. Six former Serbian political, military and police officials are charged with the murders and persecution of Albanian civilians in 1999. The prosecutor tried to show that some parts of the report drafted by criminology professor Branislav Simonovic were inaccurate, claiming that the defense expert witness tried to downplay the authority and role of General Lukic as the head of MUP Staff for Kosovo in 1999.
The witness stated that the PJPs, identified by many prosecution witnesses as the perpetrators of the gravest crime in the province, were under the authority of General Obrad Stevanovic. Sreten Lukic did not have control over them, he said. The prosecutor confronted him with quotes from the interview Lukic gave to the OTP investigators before he was indicted. Lukic then contended that the PJPs had 'a double chain of command'. On the one hand, they were under the jurisdiction of General Obrad Stevanovic, and on the other under the command of the head of the MUP Staff – Lukic himself.
In an effort to defend the accused from what he himself said, Simonovic explained that the double chain of command was not possible from the legal point of view. In his view, Lukic's statement deserves more of a 'psychological then legal analysis'. As the witness put it, the accused said what he did because he wanted to boast and claim for himself greater authority than he actually had. The witness however didn't explain to the judges why Lukic would want to boast before the OTP investigators who interviewed him as a suspect.
According to the prosecutor, the allegation that the accused had the command role is further corroborated by the explanation given by the interior minister in his recommendation for Lukic's promotion to the rank of lieutenant-general in the summer of 1999. The minister notes that Lukic excelled in 'exercising command over police units' in Kosovo. The witness nevertheless remained adamant: Lukic didn't command the police forces. He couldn't understand why the minister wrote that, he added. The only explanation occurring to him, the witness said, was that something like that could serve as 'morale booster' for officers promoted in the wartime.
The trial of the Kosovo Six continues on Monday with the evidence of General Lukic's last defense witness. He will testify under the pseudonym 6D1, the Trial Chamber indicated, but it is not clear whether he will give his evidence in closed or in open session. The expert witnesses of the other six accused should give their evidence in the course of next week.