Home
TRIBUNAL'S 'WORST APPEAL CASE' PROCEEDS AT SNAIL'S PACE
The appellate hearing in the case against six former Herceg Bosna leaders will most likely take place in the first four months of 2017, the presiding judge has announced, adding that it is the 'worst appellate case' ever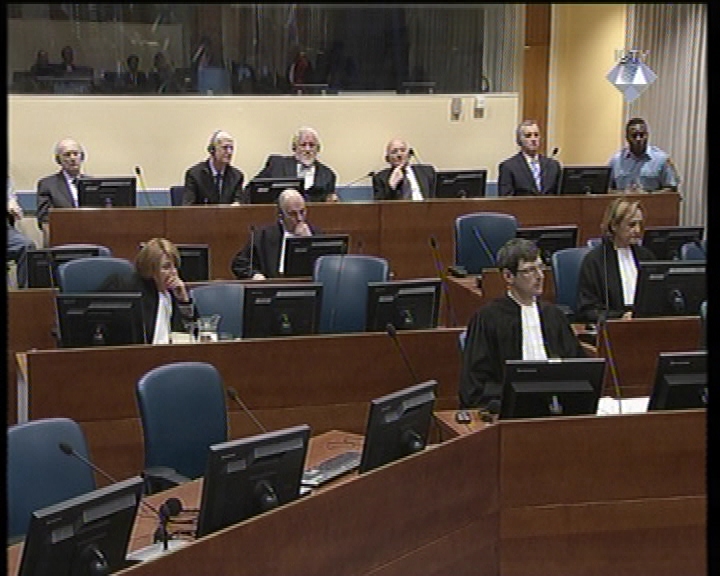 Jadranko Prlic, Bruno Stojic, Slobodan Praljak, Milivoj Petkovic i Valentin Coric in the ICTY courtroom
The final judgment in the Tribunal's 'worst appellate case ever' will be delivered by the end of November 2017, Judge Carmel Agius confirmed at thestatus conference today . The six former Herceg Bosna leaders were all convicted in May 2013 and sentenced to a total of 111 years in prison for crimes committed during the Croat-Muslim conflict in 1993 and 1994. Jadranko Prlic, Bruno Stojic, Slobodan Praljak, Milivoj Petkovic and Valentin Coric attended the status conference in the appellate proceedings. Berislav Pusic, the sixth accused, has been provisionally released and will have to return to The Hague for the appellate hearing.
The first accused Jadranko Prlic asked the presiding judge to clarify why this appellate case was the 'worst' in the Tribunal's history to date. The case is 'enormous and extremely complex', Judge Agius explained, and involves hundreds of grounds of appeal, which are often interconnected. According to the presiding judge, each of those grounds of appeal must be considered separately as they don't all pertain to the same accused.
All six accused appealed against the judgment, as did the prosecution, which called for harsher sentences. According to he prosecution, the sentences of all of the accused should be doubled: 40 years in prison for Prlic, Stojic, Praljak and Petkovic, 35 years for Coric and 25 years for Pusic.
Despite the scope and complexity of the case the Appeals Chamber is 'able to tackle it', Judge Agius said. The appellate hearing has been scheduled for February or March 2017. After that the judges will withdraw to deliberate on the final judgment, due to be delivered in late November 2017.