Home
DEFENSE: MLADIC IS VICTIM OF 'SYSTEMATIC BIAS'
Ratko Mladic's defense has now accused all those involved in his trial - from the judges of the Tribunal and the Mechanism for International Criminal Tribunals to the high-ranking UN officials – of a 'systematic bias' against their client. Mladic's defense has demanded that the trial be suspended and judges Orie and Flugge disqualified. They also want the UN Security Council to set up a working group which will investigate the allegations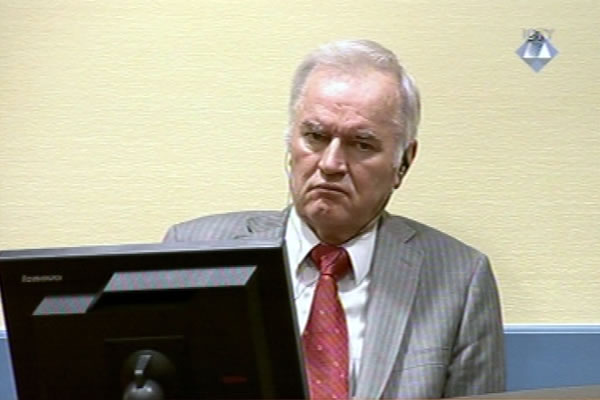 Ratko Mladic in the courtroom
Ratko Mladic's defense has filed a motion seeking the suspension of the proceedings against their client because of the 'systematic bias' displayed against him by two Trial Chamber's judges, three Appeals Chamber's judges, the president of the Tribunal and of the Mechanism for International Criminal Tribunals, and a number of high-ranking UN officials. According to the defense, all of them have 'disregarded the right of the accused to the presumption of innocence and have already convicted him''. The defense has called on the Security Council to set up a working group to investigate the allegations and to submit its findings in three months' time.
Mladic's defense has also called for the disqualification of judges Alphons Orie and Christoph Flugge. In its motion, the defense notes that the two judges have already found Mladic guilty: first and foremost, when they denied the defense's demands for the guarantees to a fair trial and the presumption of innocence, and secondly, in light of the judgments they have passed in previous cases. Orie was on the panel that tried Galic and Krajisnik, and Flugge was one of the judges in Tolimir's case. Mladic's defense also wants a directive to be issued to prevent trial chambers from making pronouncements about the criminal liability of persons who were not indicted in the specific case in which the judgment in question is rendered.
The defense has doubts about the impartiality of three of the five judges in the Appeals Chamber hearing the cases in which Mladic 'has already been convicted': Judge Fausto Pocar in the Popovic et al. case, and the president of the Mechanism Theodor Meron and Judge Jean-Claude Antonetti in the Tolimir case. Carmel Agius, the president of the Tribunal, has also been found objectionable because he was the presiding judge in the Popovic et al. case. In its motion, the defense claims that the ICTY's registrar has shown bias on several occasions.