Home
APPEALS CHAMBER REMINDS PRALJAK HE OWES 2.8 MILLION EUROS
Almost 30 months ago, the Appeals Chamber ordered Slobodan Praljak to pay back to the Tribunal 2.8 million euros his defense lawyers received from the legal aid fund. The accused, as it turned out, was not entitled to receive legal aid in light of his financial status. Now, the Appeals Chamber issued a new order to the same effect.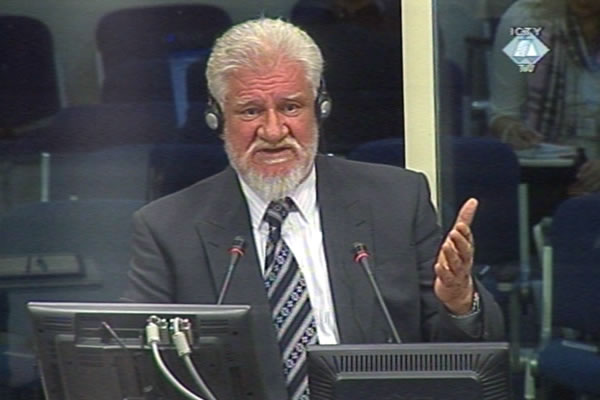 Slobodan Praljak svjedoči u svoju odbranu
The Appeals Chamber has again ordered Slobodan Praljak to pay a total of 2,807,611.10 euros to the Tribunal's bank account within 30 days. The amount was paid to his defense lawyers from the legal aid fund. If he prefers to do so, Praljak may pay the amount back in monthly installments over the next year. The first installment must amount to at least 10 per cent of the debt, and the remaining sum may be paid in 11 monthly installments of 210,570.84 euros.
In the course of Praljak's trial, the Tribunal financed his defense team because the accused claimed he was indigent. The Registry launched an enquiry into his circumstances, which spanned several years and covered a number of countries. The enquiry determined that the former chief of the HVO Main Staff was in fact quite well-off and perfectly able of paying at least 6,456,000 euros for his defense, without jeopardizing the subsistence of his family. The sum was calculated by subtracting the estimated cost of living for Praljak, his wife and other family members from the value of Praljak's property.
The Appeals Chamber has ordered Praljak to notify it within seven days of the manner in which he intends to repay the debt, warning hi, that if he fails to do so, he will face 'appropriate measures', as yet unspecified, in order to ensure the collection of the debt.
Judge Pocar appended to the order his separate opinion, indicating he had doubts about the effectiveness of the very general threat phrased as 'appropriate measures'. In Pocar's opinion, Praljak should be told in no uncertain terms that if he fails to comply with the Appeals Chamber's order, he might be charged with and punished for contempt of court.
In the first-instance judgment, Praljak was sentenced to 20 years in prison for crimes committed by the HVO during the Croat-Muslim war in 1993 and 1994. The prosecution appealed the judgment, asking the judges to double the sentence.