Home
FINAL JUDGMENT FOR HERCEG BOSNA LEADERS IN LATE 2017
At the status conference today Carmel Agius, the presiding judge in the Appeals Chamber, indicated that the Appeals Chamber would deliver its judgment in the case against the former Herceg Bosna leaders in November 2017. All the accused except Berislav Pusic, who has been granted provisional release, attended the hearing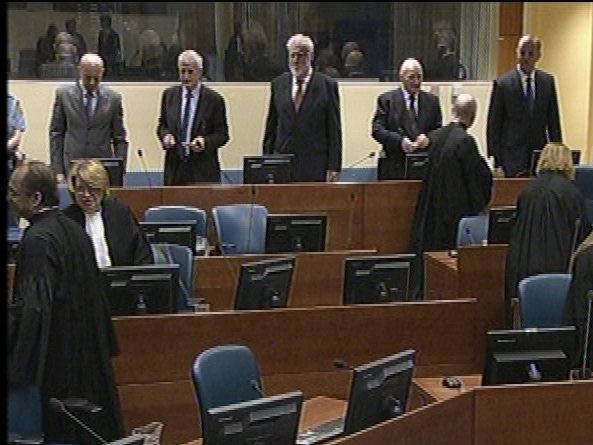 Accused leaders of Herceg Bosnia
A status conference was held today at the Tribunal in the case against six former Bosnian Croat leaders: Jadranko Prlić, Bruno Stojic, Slobodan Praljak, Milivoj Petkovic, Valentin Coric and Berislav Pusic. All the accused attended the hearing except Pusic who was granted provisional release. Fahrudin Ibrimisimovic, Pusic's defense counsel, attended the status conference from Sarajevo via video link.
None of the accused had any complaints about their health or the conditions in the Detention Unit. 'Everything is OK, beyond any reasonable doubt', former HVO commander Slobodan Praljak said and the rest of the accused followed suit. As Prlic's defense counsel Michael Karnavas noted, at this moment the defense's main concern is how far the judges have progressed in considering the appeals and the dates for the appellate hearing.
According to Judge Agius, the Appeals Chamber is expected to deliver its judgment in late 2017. Since his appointment as the presiding judge in the appellate proceedings of the former Herceg Bosna leaders, he has dedicated 'practically all my time' to the appeals in the Prlic et al. case. After the final judgment in the Mico Stanisic and Stojan Zupljanin case in late June 2016, Judge Agius promised, he would 'fully' focus on considering the 'extremely difficult and complex' appeals in the case against the former Herceg Bosna leaders.