Home
APPELLATE HEARING LIKELY IN JANUARY 2016
Judge Carmel Agius states that the appellate hearing in the case against Mico Stanisic and Stojan Zupljanin has been rescheduled either to December 2015 or, more likely, to January 2016, for 'a combination of reasons'. The appellate hearing was initially slated for November 2015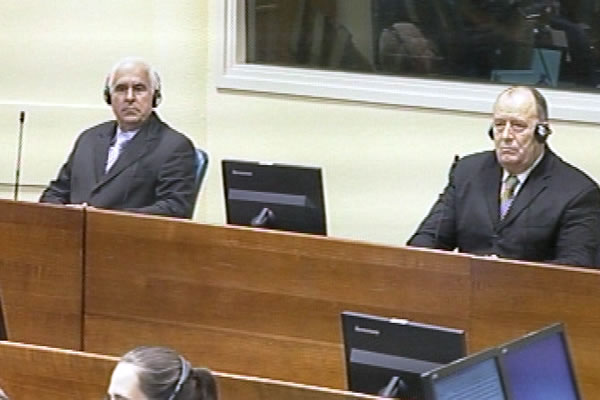 Mico Stanisic i Stojan Zupljanin in the courtroom
The appellate hearing in the case against former Bosnian Serb police chiefs Mico Stanisic and Stojan Zupljanin could be held in December 2015 or, more likely, in January 2016, Judge Carmel Agius stated at the eighth regular status conference in the appellate proceedings. Despite the delay, Judge Agius noted, the judgment would be rendered in June 2016, as planned.
Judge Agius explained that the appellate hearing was rescheduled for a 'combination of reasons'. The judges are involved in other cases that should be completed by the end of 2015, Judge Agius said. One of the judges is hearing a case before the Tribunal for crimes in Rwanda, which is expected to end in December 2015. Another judge is engaged in the case against former Serbian State Security Service chiefs Jovica Stanisic and Franko Simatovic. Only after the two trials are completed the judges will be able to focus on the appellate hearing in the Stanisic and Zupljanin case.
Former Republika Srpska police minister Mico Stanisic and former chief of the Banja Luka Security Services Center Stojan Zupljanin didn't have any complaints about the conditions in the detention unit or their health. 'For the time being everything is normal', Stanisic said. The 'conditions are the same, it is only us that get older, as time goes by', Zupljanin added. 'I am also getting older, and so are the others', noted Judge Agius.
In March 2013, Stanisic and Zupljanin were sentenced to 22 years each for the crimes of the Serb forces against Muslims and Croats in municipalities throughout Bosnia and Herzegovina. Both the defense and the prosecution appealed against the trial judgment. The prosecution claims the sentence is inadequate and calls for a 'significantly harsher' punishment. The defense urges the judges to acquit the accused on all counts in the indictment or alternatively, to impose milder sentences. The defense had at one point called for a mistrial after the disqualification of Judge Frederik Harhoff from the Trial Chamber in the Vojislav Seselj case; he was disqualified because of his bias. Judge Harhoff was in the trial chamber that convicted Stanisic and Zupljanin.