Home
APPELLATE PROCEEDING IN STANISIC AND ZUPLJANIN'S CASE POSTPONED
At a status conference in the case against former RS police officials it has been announced that the appellate hearing - slated for April 2015 - would be held after the Tribunal's summer recess. This means that the accused will have to wait until next year for the appellate judgment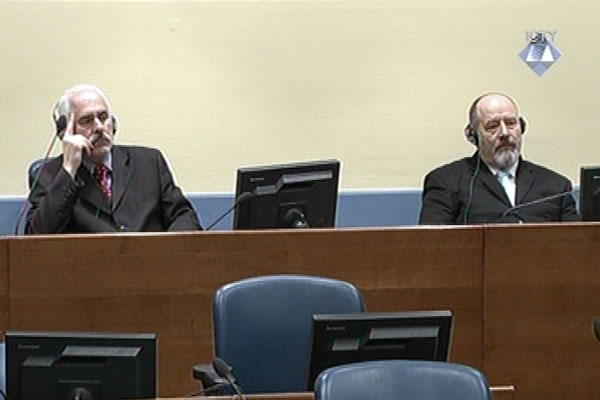 Mico Stanisic i Stojan Zupljanin in the courtroom
According to the original schedule, the appellate hearing in the case against former Republika Srpska high-ranking officials Mico Stanisic and Stojan Zupljanin was slated for April 2015. However, it seems that it will be postponed until after the Tribunal's summer recess.
Pre-appeal judge Carmel Agius explained at today's status conference in the appellate proceedings that the 'situation has deteriorated because of the staff leaving the Tribunal'. Consequently, Judge Agius noted, the proceedings cannot be expected to be completed this year.
Stanisic and Zupljanin were sentenced to 22 year in prison each for crimes against Bosnian Croats and Muslims in 1992. The Trial Chamber found the two accused guilty of persecution, murder, torture and other crimes perpetrated as a part of a joint criminal enterprise aimed at the permanent elimination of Bosnian Muslims and Croats from the areas that were to form part of a Serb state.
Stojan Zupljanin, former chief of the Banja Luka Security Service Center, didn't have any complaints about the conditions in the detention, A 'prison sentence is difficult as it is', Zupljanin told the judge. Stressing that he has spent about seven years in detention, Zupljanin said that the 'prison takes its toll' and that it was not 'easy for me'. Former RS police minister Mico Stanisic didn't have complaints about the conditions in detention either. His health is 'bearable' and 'much as can be expected in a person of my age', Stanisic said.