Home
APPELLATE HEARING FOR STANISIC AND ZUPLJANIN ON 16 DECEMBER 2015
The appellate hearing where the parties will present their arguments against the trial judgment has been slated for 16 December 2015. The Trial Chamber sentenced Mico Stanisic and Stojan Zupljanin to 22 years in prison for crimes against Muslim and Croatian population in 20 municipalities in Bosnia and Herzegovina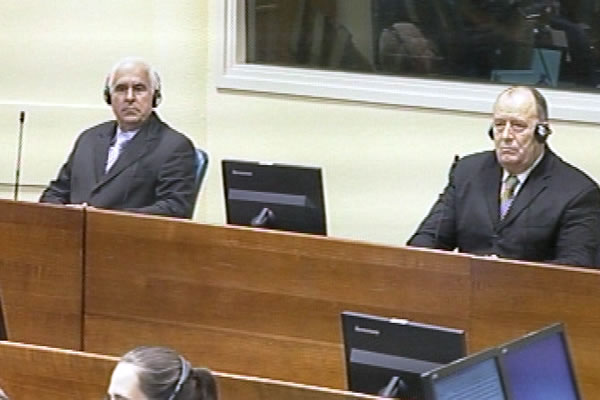 Mico Stanisic i Stojan Zupljanin in the courtroom
The appellate hearing in the case against Mico Stanisic and Stojan Zupljanin will be held on Wednesday, 16 December 2015, it has been announced in the scheduling order signed by Judge Carmel Agius, the presiding judge of the Appeals Chamber. The details of the hearing and judges' questions will be disclosed later.
In March 2013, former Republika Srpska police minister Mico Stanisic and chief of the Banja Luka Security Services Center Stojan Zupljanin were found guilty of the crimes committed by the Serb forces against Muslims and Croats throughout Bosnia and Herzegovina. Both Stanisic and Zupljanin were sentenced to 22 years.
The prosecution and the defense appealed against the trial judgment. The prosecution called on the appellate judges to 'significantly increase' the 'inadequate' sentence. The defense teams want their clients acquitted on all counts in the indictment, or alternatively, new, milder sentences. The defense counsels of the former Bosnian Serb police chiefs also demanded a re-trial after one of the Trial Chamber's judges, Dane Frederik Harhoff, was disqualified from Vojislav Seseslj's case for purported bias.
At the status conference held two weeks ago Judge Agius indicated that the judgment could be expected in June 2016.