Home
APPELLATE HEARING IN STANISIC AND ZUPLJANIN CASE SCHEDULED FOR FALL OF 2015
The appellate hearing in the case against the two former Republika Srpska police officials will be held in November 2015. The final judgment is expected in the spring of 2016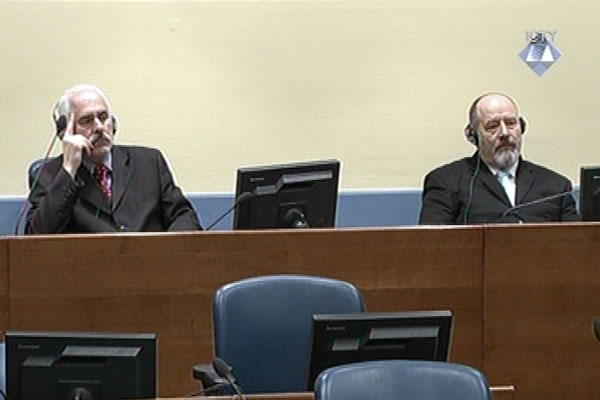 Mico Stanisic i Stojan Zupljanin in the courtroom
The appellate hearing in the case against the two former chiefs of the Bosnian Serb police is slated for November 2015,it has been indicated at the regular status conference in the appellate proceedings.
As the presiding judge Carmel Agius indicated, the final judgment can be expected in June 2016.
In March 2013, Mico Stanisic, former Republika Srpska police minister, and Stojan Zupljanin, former chief of the Public Security Services Centre in Banja Luka, were sentenced to 22 years each for the crimes committed by the Serb forces against Croats and Muslims throughout Bosnia and Herzegovina.
A few months after the trial judgment, the defense teams demanded a mistrial because of the purported bias shown by Danish judge Frederik Harhoff.In the meantime, Judge Harhoff was disqualified from the Trial Chamber hearing the case against the Serbian Radical Party leader following Vojislav Seselj's motion in which he too alleged Harhoff was biased.
In April 2014, the Appeals Chamber sitting in the case against Stanisic and Zupljanin denied the motion for the declaration of mistrial. The appellate hearing was expected to be held later in 2014.
Today Stanisic and Zupljanin didn't have any complaints about their health or the conditions in the detention unit.