Home
AWAITING ZDRAVKO TOLIMIR'S FINAL JUDGMENT
The date of the final judgment in the case against the former chief of the VRS security and intelligence was not set at the regular status conference in Zdravko Tolimir's appellate proceedings. The Trial Chamber found Zdravko Tolimir guilty of genocide and other crimes in Srebrenica and Zepa in July 1995 and sentenced him to life in prison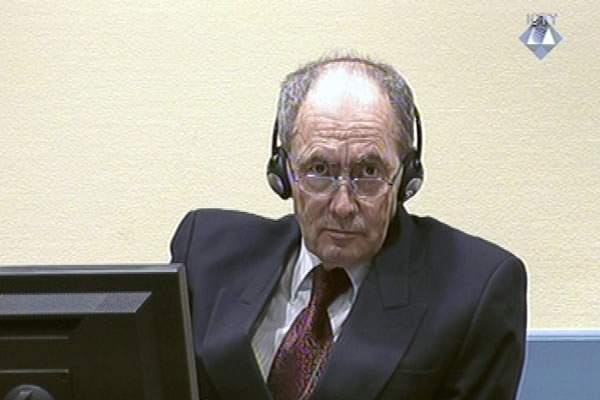 Zdravko Tolimir in the courtroom
Zdravko Tolimir, Ratko Mladic's former assistant for security and intelligence in the Republika Srpska Army Main Staff, appeared at the status conference in his appellate proceedings, probably for the last time before the appellate judgment is rendered. The plan is for the judgment to be handed down in March 2015.
In December 2012, the Trial Chamber found Tolimir guilty of genocide, complicity to commit genocide, killing, persecution and forcible removal of the population of Srebrenica and Zepa in July 1995. In his appeal against the trial judgment the former chief of security and intelligence in the VRS Main Staff contested the findings in 25 grounds of appeal. The prosecution has not appealed against the Trial Chamber's judgment.
At a brief status conference, Judge Theodor Meron recalled that the appellate hearing in the Tolimir case was held in November 2014. The five judges in his panel are working on the final judgment, the presiding judge said, but did not specify the date on which the judgment would be handed down.
Asked about his health and the conditions in the detention unit, Tolimir replied that he had some health problems: 'four stents have been inserted' into his blood vessels, Tolimir explained. The accused requested that the medical records of the procedure be disclosed to him and to the Appeals Chamber.