Home
TOLIMIR ORDERED TO PREPARE PUBLIC VERSION OF HIS 'CONFIDENTIAL APPEAL'
Judge Theodor Meron stressed the importance of public proceedings before the International Criminal Tribunal for the former Yugoslavia, ordering Zdravko Tolimir to disclose a public version of his confidential appellate brief. Judge Meron also ordered the prosecution to make public its response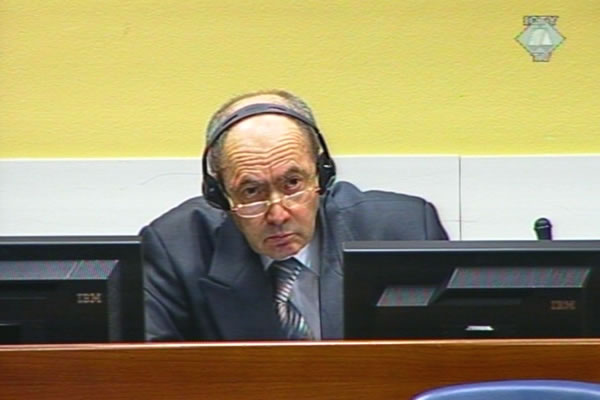 Zdravko Tolimir in the courtroom
At a regular status conference in the appellate proceedings against Zdravko Tolimir, Mladic's former assistant for security and intelligence in the VRS Main Staff, pre-trial judge Theodor Meron ordered the defense and the prosecution to prepare and submit the redacted 'public versions' of their appellate briefs by 27 March 2014.
The Trial Chamber found Tolimir guilty and sentenced him to life for the genocide in Srebrenica. Tolimir submitted his appellate brief as a confidential document. As a result, the prosecution's response was also filed as a confidential document. The prosecution didn't appeal against the trial judgment. Highlighting the 'general importance of transparent proceedings' before an international court, Judge Meron recalled that the Tribunal's Statute guaranteed a 'public trial'. According to the Rules of Procedure and Evidence, all cases should be heard by the Appeals Chamber in open court, Judge Meron recalled, except when there were extraordinary reasons for the hearings to be held behind closed doors. All confidential information must be redacted from the public versions of the briefs, the judge ordered.
Since the prosecution's brief was just a response to Tolimir's appellate brief, the prosecution sought permission to file the public version some days after the defense has filed its brief. The prosecution would thus have the opportunity to see what Tolimir and his team want to keep confidential and unavailable to the public. Judge Meron instructed the prosecution to submit a written request. The Appeals Chamber will render its decision later.
Zdravko Tolimir didn't have any complaints about the conditions in the Detention Unit or any other objections regarding his health. At the beginning of the status conference, Tolimir wished everyone a 'day pleasing to God', as has been his custom. He also expressed his desire that the 'status conference ends in line with God's will and providence – as it is most agreeable to God and most useful for our souls'.
In line with the Tribunal's rules, the next status conference should be scheduled not later than 120 days from today.