Home
GENOCIDE CONVICTION AND LIFE IN PRISON CONFIRMED FOR TOLIMIR
The Appeals Chamber has confirmed the genocide conviction and life imprisonment for Zdravko Tolimir, Mladic's former assistant for security and intelligence in the VRS Main Staff. Although some grounds of appeal put forth by the accused have been granted and some convictions have been quashed, this has not merited any reduction in the sentence, the judges decide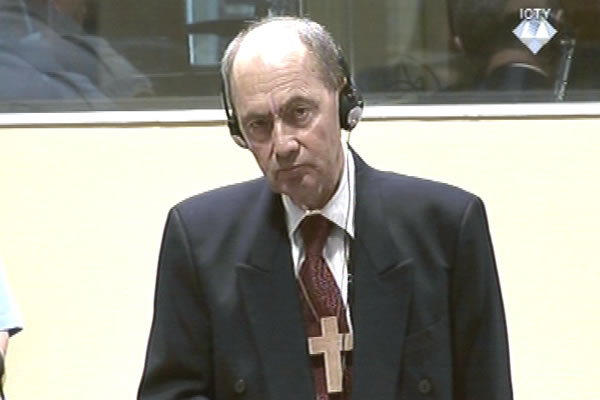 Zdravko Tolimir in the courtroom
The Appeals Chamber unanimously confirmed the life sentence for Zdravko Tolimir. With a majority of votes, the five-member panel has rejected most of the 25 grounds of appeal put forth by the former chief of security and intelligence in the VRS Main Staff in a bid to have the Trial Chamber's findings reversed.
In December 2012, the Trial Chamber found Tolimir guilty of genocide, complicity to commit genocide, extermination, murder, persecution and forcible transfer of the population of Srebrenica and Zepa in July 1995.
The Trial Chamber concluded in its judgment that Tolimir had 'actively participated and significantly contributed' to the implementation of two joint criminal enterprises. The Appeals Chamber has accepted the conclusion. The two enterprises involve the killing of the men of military age from Srebrenica and the expulsion of the Muslim civilians from Srebrenica and Zepa. The result was a 'mass execution of thousands of Bosnian Muslims from Srebrenica and the forcible transfer of thousands of civilians from the both enclaves'.
The Appeals Chamber has in part or in whole granted nine of the 25 grounds of appeal put forth by Tolimir, noting that the Trial Chamber 'erred in law' in some parts of the judgment, and that some of the Trial Chamber's findings were 'insufficiently explained'. The genocide conviction has been modified, but only insofar as it pertains to Tolimir's responsibility for the 'killing of three Muslim leaders in Zepa after the forcible transfer of the population of the enclave'. The appellate judges stress that the 'Bosnian Muslims of Žepa were, along with the Muslims of Srebrenica and Eastern BiH, the victims of genocide'. The murder of three Zepa leaders – Avdo Palic, Mehmed Hajric and Amir Imamovic – was a war crime and a crime against humanity, the Appeals Chamber noted in its judgment.
The appellate judgment acquits Tolimir of the crime committed by the Scorpions unit: the killing of six prisoners from Srebrenica in late July 1995 near the village of Trnovo. According to the Appeals Chamber, the link between the direct perpetrators, who were all members of the special police unit nicknamed the Scorpions, and the participants in the joint criminal enterprise hasn't been established sufficiently.
The acceptance of some of Tolimir's grounds of appeal and the partial reversal of some convictions from the trial judgment has not affected the length of the sentence. Zdravko Tolimir is the fourth accused to receive the harshest sentence at the Tribunal's disposal: life imprisonment. Stanislav Galic was sentenced to life for the artillery and sniper terror campaign in Sarajevo, and Vujadin Popovic and Ljubisa Beara were sentenced to life for the Srebrenica genocide.