Home
HOW TO RELEASE SESELJ AGAINST HIS WILL?
After the Trial Chamber received the response of the government of the Republic of Serbia with regard to the guarantees for Vojislav Seselj's provisional release, it invited the accused to state in writing his opinion on the conditions for his provisional release in Serbia pending the trial judgment. Seselj was urged to do that despite the fact that basically he had already rejected those conditions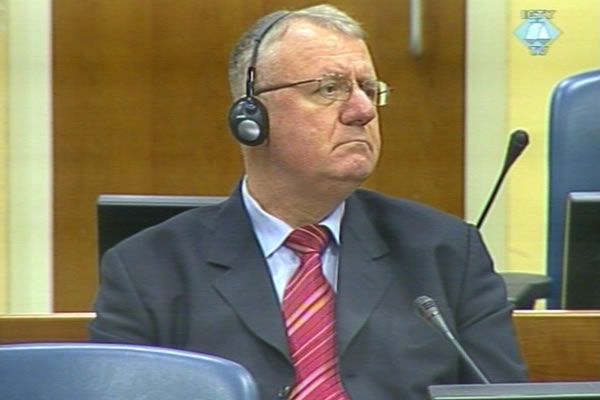 Vojislav Seselj in the courtroom
Judge Antonetti's Trial Chamber continued with its efforts to secure conditions for the provisional release of Vojislav Seselj. The accused has been called to state his opinion and declare if he would be willing to accept the conditions for his provisional release, which would make it possible for him to stay at home pending his trial judgment on the indictment for the crimes in Croatia, Vojvodina and BH. The Trial Chamber is not expected to render the judgment before the end of 2014.
The invitation is based on the confidential response of the Serbian government, which has expressed its willingness to issue the required guarantees, if Seselj could confirm in a legally binding form that he would respect the terms. The Trial Chamber consequently called the accused to state in writing if he accepted the conditions of his provisional release: police escort on his arrival and departure, house arrest at a specified address, surrendering his passport to the authorities, no contacts with any of the victims and witnesses, and no discussion of his case with anyone else but his legal advisors.
In his separate opinion, Judge Antonetti stated that he agreed with his colleagues in the Trial Chamber, judges Lattanzi and Niang, but regretted the rejection of his proposal to make it clear to Seselj that if he failed to comply with the terms, the Trial Chamber would be forced to withdraw its initiative for the provisional release. This would thus be an 'automatic consequence' of the position taken by accused.
Judging by Seselj's last brief, it is not difficult to foresee what the accused will reply. On 17 June 2014, in his response to the Trial Chamber's invitation to submit his opinion on the possible provisional release pending his judgment, Seselj stated that he had no intention of complying with the usual terms of the provisional release. Seselj thus said that he would not report regularly to the police, he would not wear 'any collars, bracelets or anklets', and would take part in the political life, appear in public and criticize the Tribunal in The Hague.
The Trial Chamber's bid to grant Seselj provisional release against his will is probably doomed to fail. Consequently, Seselj's already lengthy detention will be extended until further notice.