Home
PROSECUTOR ON SESELJ'S PROVISIONAL RELEASE
According to the prosecution, there are no arguments to support Vojislav Seselj's provisional release. However, the prosecution wouldn't object the decision if the conditions were set to ensure that during his stay in Serbia the accused wouldn't pose a risk to victims and witnesses. The accused should also return to The Tribunal if and when ordered to do so, the prosecution noted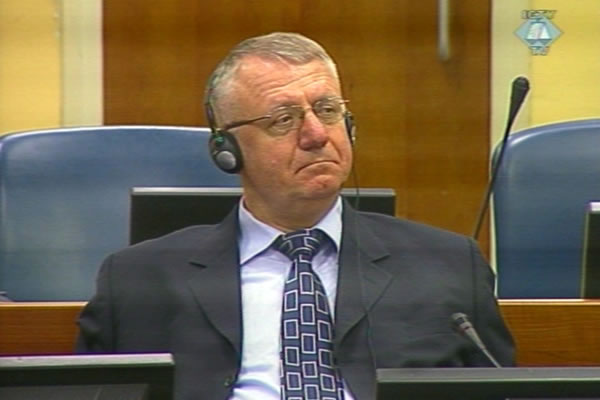 Vojislav Seselj in the courtroom
The prosecution responded to the Trial Chamber's question whether Vojislav Seselj should be granted provisional release pending his trial judgment: it does not explicitly oppose the option. The judges invited the parties to submit their views on the possibility to grant the accused Serbian Radical Party leader provisional release pending his trial judgment. Although Seselj has never filed a motion for provisional release, the option would allow Seselj to await the Trial Chamber's judgment in Serbia.
In its short submission, the prosecution recalled the Registry's report which stated that the continued detention of the accused 'is not incompatible' with the medical treatment the accused is receiving. In other words, the accused has access to medical care he needs in the Tribunal's Detention Unit. Also, the 'list of activities' Seselj intends to engage in during his stay in Serbia in the prosecution's view indicates 'he is in good health'.
In his reply to the Trial Chamber's invitation, the accused stated that he planned to take part in public rallies, to give interviews to the media, and appear in TV shows although it would violate the Trial Chamber's order on the conditions of his release. In his response Seselj said he would not report regularly to the police or wear 'any collars, bracelets, anklets' that are used to prevent the accused from absconding. The only measure he would comply with, Seselj said, is not leaving the territory of the Republic of Croatia.
As the prosecution stresses in its submission, the Trial Chamber should do all the necessary steps to ensure that the trial judgment is rendered 'as soon as possible'. The Serbian Radical Party leader is on trial for crimes in Croatia, Vojvodina and BH. The prosecution also recalls that in its recent decision the Appeals Chamber noted that the accused failed to prove that the length of the proceedings against him, including the 11-year detention, infringed his right to due process.
If the Trial Chamber decides to grant Seselj provisional release pending his trial judgment, the prosecution noted, it should also set conditions to ensure that the accused 'does not pose a risk to victims, witnesses or other persons', and that he returns to The Hague when ordered to do so by the Trial Chamber.
The Trial Chamber is expected to reach its decision in due time.