Home
SESELJ GIVES NO RESPONSE, BUT MESSAGE IS CLEAR
The Serbian Radical Party leader has told the Tribunal's officials that he does not intend to respond to the Trial Chamber's invitation to state whether he would be willing to accept the terms of provisional release. He has already said everything he has to say in one of his last submissions, Seselj noted: that he will not comply with any of the terms, except for not leaving the territory of the Republic of Serbia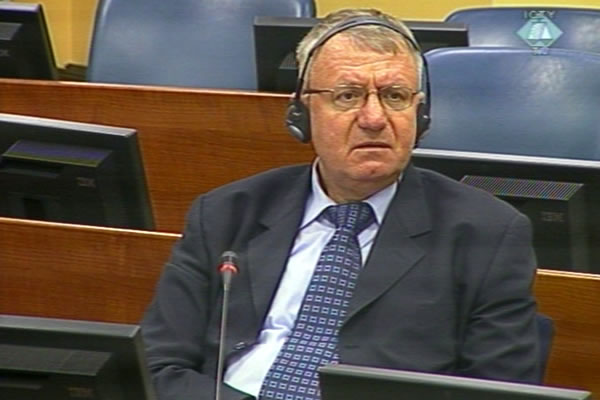 Vojislav Seselj in the courtroom
Vojislav Seselj will not respond to the Trial Chamber's invitation to state if he would be willing to accept the conditions for his provisional release pending the trial judgment. Seselj spoke to Viktorija Taseva, the Tribunal's legal officer in the Department for Victims and Witnesses, on the phone this morning. She in turn relayed the message to the Trial Chamber, which ordered her internal memorandum to be made public.
On 4 July 2014, the judges invited Seselj to state within three days whether he would be willing to accept the conditions for his provisional release in Serbia: police escort on his arrival and departure, home arrest at a specific address, no contacts with any of the victims and witnesses and no discussion of his case with anyone but his legal advisors.
In today's telephone conversation the accused told Taseva that what he had to say on the matter had already been stated in one of his previous submissions, Submission No. 522. In this document, Seselj responded to the initial proposal of the judges to grant him provisional release (although he had not asked for it). Seselj stated that if he were to go to Serbia he wouldn't observe any of the conditions with the exception of the ban on his leaving the Republic of Serbia's territory.
In the Trial Chamber's last invitation the judges noted that if the accused refused to comply with the conditions for provisional release, they would be forced to withdraw their initiative. Unless there is a dramatic about-turn, then, it seems likely that the Serbian Radical Party leader will await the trial judgment on the indictment for the crimes in Croatia, Vojvodina and BH in the Tribunal's Detention Unit in The Hague.