Home
PROSECUTION: SESELJ'S DEMAND FOR 12 MILLION EUROS 'MERITLESS'
The prosecution recalls that the Serbian Radical Party leader has been lawfully detained, in line with the Tribunal's rules, stressing that he 'has never even tried' to comply with the conditions of provisional release. The accused has in fact rejected the judges' initiative to obtain provisional release for him. In the past 11 years the accused has served 54 months in prison for contempt of court. Bearing all that in mind, the prosecution holds that Seselj's request for 12 million euros as compensation for his groundless detention should be rejected as 'meritless'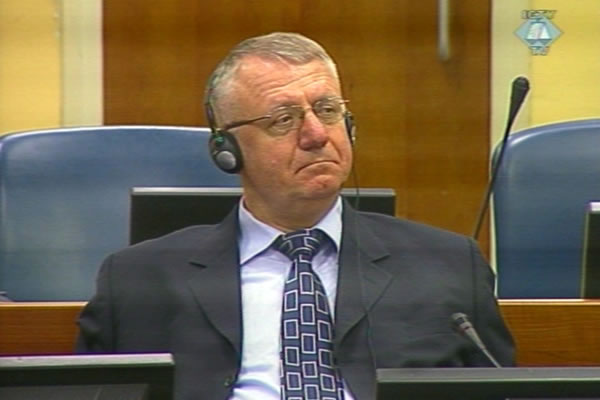 Vojislav Seselj in the courtroom
Responding to Vojislav Seselj's request for 12 million euros as compensation for his 'groundless detention', the prosecution has noted that there was no legal ground for such a payment. According to the prosecution, the Trial Chamber should reject the motion filed by the Serbian Radical Party leader.
The prosecution recalls that Seselj was indicted for the gravest war crimes in Croatia, Vojvodina and BH. Following his voluntary surrender, Seselj was placed in detention in February 2003. Seselj's arrest and detention were fully in line with the Tribunal's rules; every step in the process was taken lawfully, the prosecution notes in its brief.
The prosecution stresses that the accused has asked for provisional release three times but hasn't 'never even tried' to comply with the conditions for that, although he has been aware of the conditions 'at least from his initial appearance before the Tribunal'. The accused has not made any efforts to obtain the guarantees from the state in support of his motions for provisional release. Thus, the prosecution noted, Seselj said in 2009 that 'today my country is run by a pro-Western, Mafia-like, traitorous government. I will never ever accept their guarantees. I prefer to die.'
Because of this attitude, Seselj's detention has been automatically extended, the prosecution notes. Recently, the Trial Chamber has tried to obtain guarantees from the Republic of Serbia for Seselj's provisional release, although he has not asked the judges to do so. The judges' efforts were in vain, because Seselj refused to comply with the 'regular conditions for provisional release' and the process has been terminated.
Finally, the prosecution notes that during his stay in the UN Detention Until Seselj has served three contempt of court sentences, amounting to a total of 54 months in prison. This means that he has actually spent not 11 but about seven years in detention
pending or during trial.
The prosecution also recalls that the Appeals Chamber has recently rejected Seselj's motion for the termination of the proceedings against him because of their length, and argues that his 'lengthy' motion for millions of euros in compensation abounds with irrelevant allegations and groundless claims, many of which had already been rejected. Based on all these facts, Seselj's motion should be rejected as 'meritless', the prosecution concludes in its response.