Home
THE HAGUE INSTEAD OF 'HAPPY HUNTING GROUNDS'
At a hearing about Ratko Mladic's health that was scheduled after his defense asked for the working week to be shortened, Mladic paid tribute to all those who have 'saved his life' after his arrival in The Hague and 'pulled me out of a grave'. As he said, he already had 'both feet in the grave'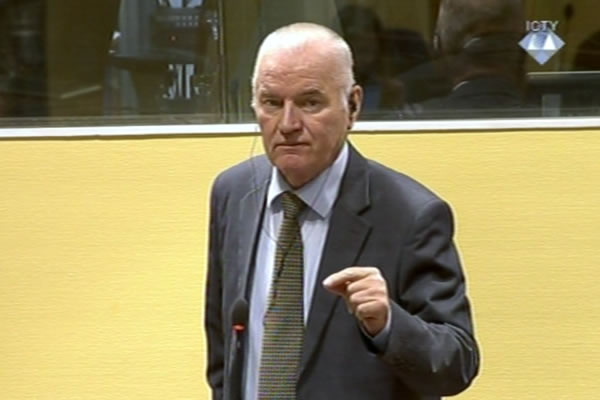 Ratko Mladic in the courtroom
'If I hadn't come here, I would have long gone to the happy hunting grounds', said Ratko Mladic at the end of the hearing on his health. The hearing followed a motion filed by the defense to shorten the working week at Mladic's trial from five to four days. 'While I don't want to praise the Tribunal, I want to express my admiration', gratitude and respect to all the staff in the Bronovo hospital, 'from the cleaning lady to the owner' for 'saving my life'. Thanks to their care, medication and God's will, he is not yet 'at Saint Peter's gate', Mladic explained.
The defense quoted medical reasons in support of the motion to cut the working week short. If the trial didn't slow down, the health of the accused, already fragile, could deteriorate further, the defense claimed. To establish if there are medical grounds for this claim the judges called Dr. Paulus Falke, medical officer in the UN Detention Unit and spent two and a half hours questioning him about the possible risks for Mladic's health if the five-day working week remained in place.
After he saw the results of Mladic's detailed medical examinations, Dr. Falke also recommended a shortening of the working week. In light of the age of the accused and the fact that he has survived two strokes, the consequences of which are still present, the Dutch doctor found that a four-day working week would be more appropriate. Asked to specify 'the serious consequences' that might occur if the trial continued at the current pace, Dr. Falke said that the accused could suffer from 'extreme fatigue and a decrease in concentration, emotional control and self-care'; this could ultimately lead to a 'total breakdown'. The judges will decide on the duration of the working week later. Mladic, former VRS Main Staff commander, is on trial for genocide and other crimes during the war in BH.
After the medical hearing, Mladic's defense counsel Nenad Petrusic continued his cross-examination of Momir Nikolic, former security chief in the VRS Bratunac Brigade, who pleaded guilty to the crimes in Srebrenica. He is currently serving his 20-year prison sentence. The defense counsel put it to him that the police committed the crimes after the fall of Srebrenica, not the RS military forces under the command of his client.
Nikolic didn't deny that the police committed crimes such as the execution of detainees in the warehouse of the Kravica farm on 13 July 1995. However, as he described the role of the army and police in Operation Krivaja '95, Nikolic said that they were 'different structures engaged in the same operation with the same goals'. According to Nikolic, the police units were 'under the command of their seniors' who coordinated actions with the command that was in charge of the entire operation. The technical term for it was 'coordinated action', he said. Momir Nikolic continues his evidence tomorrow.
Photos