Home
DIGGING MASS GRAVES
An insider from Bratunac, who saw the murders in front of the warehouse in Kravica on 13 July 1995, testified at the trial of Ratko Mladic with protective measures about the operation to bury the bodies of hundreds of Muslims killed after the fall of Srebrenica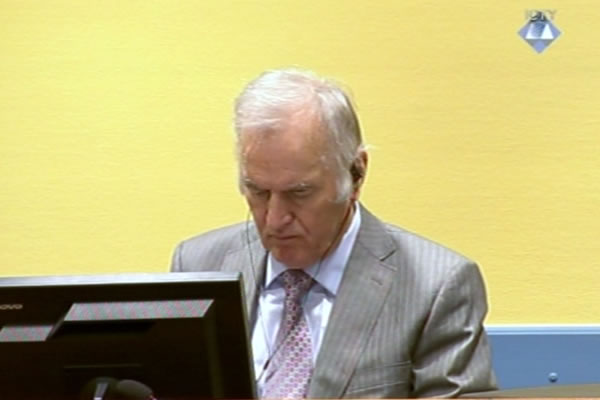 Ratko Mladic in the courtroom
The witness testifying under the pseudonym RM 306 saw the execution of five men in front of the farm in Kravica on 13 July 1995. The witness then saw hundreds of Muslim victims being buried in the mass graves in Glogova.
Testifying with image and voice distortion to protect his identity, witness explained at the trial of the VRS Main Staff commander Ratko Mladic that he saw soldiers in camouflage uniforms execute five men in front of the warehouse in Kravica. There was a pile of about 50 bodies nearby. The indictment alleges that the Serb forces executed about 1,000 detainees in the warehouse in Kravica on 13 July 1995. The next day the Serb troops buried their bodies in mass graves in the villages of Glogova and Ravnice.
According to the witness, four mass graves were dug in Glogova. The bodies from Kravica, the victims brought on trucks from Konjevic Polje, from the road to Bratunac and from the Vuk Karadzic school in Bratunac were buried there. The witness marked four graves on the photo the prosecutor showed him. According to the witness, 400 to 500 bodies were buried in the mass grave in Glogova while he was there. However, the witness was sure the final tally was higher because the operation continued after he left.
In the cross-examination which proceeded for the most part in closed session, just like the examination-in chief, Mladic's defense counsel Dragan Ivetic argued that in war, it was 'normal for the civilian services and the military to work in tandem in clean-up activities'. The defense counsel asked the witness if the mass graves in Glogova were dug in line with the civilian defense regulations about the burial of victims of war. The witness replied that the graves were 'nothing but holes' of various sizes.
The witness also confirmed that after his conversation with the OTP investigators in Banja Luka in 2000 he visited the mass graves sites in Glogova with the head of the Srebrenica investigation team, Jean Rene Ruez. As the witness claimed, he heard from Ruez that the graves had been dug up later under the command of Momir Nikolic, who was the chief of security in the Bratunac Brigade at the time. The bodies were then reburied at different locations. When the defense counsel asked him, the witness confirmed that the bodies of about 150 Muslims killed in Bratunac in 1992 were among them.