Home
GENERAL OJDANIC WITHDRAWS APPEAL
Former chief of the Yugoslav Army General Staff Dragoljub Ojdanic has withdrawn his appeal against the trial judgment. The Trial Chamber found Ojdanic guilty of the deportation and forcible transfer as crimes against humanity and sentenced him to 15 years in prison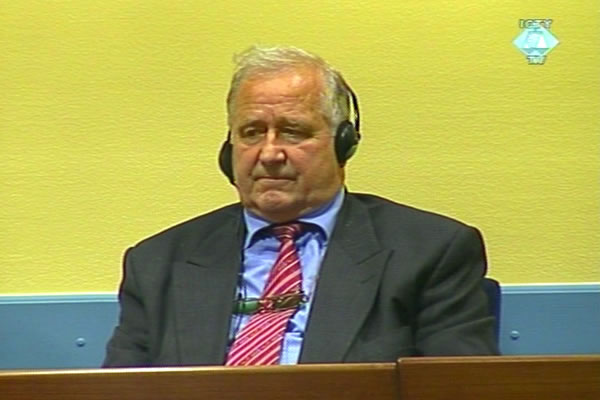 Dragoljub Ojdanic in the courtroom
In a brief letter delivered to the Tribunal, defense counsel Tomislav Visnjic informed the judges that former chief of the VJ General Staff Dragoljub Ojdanic had withdrawn his appeal against the judgment of 26 February 2009, convicting him of the deportation and forcible transfer of Kosovo Albanians and sentencing him to 15 years in prison. The prosecution immediately withdrew its appeal against Ojdanic's trial judgment.
Ojdanic stated his 'full acceptance of all the findings in the judgment' as to his conduct, conviction and sentence and expressed his 'regret for the suffering" endured by victims as a result of the conduct for which he has been convicted.
The document also noted that Ojdanic concluded it was in his interest to withdraw the appeal, bearing in mind, in particular, his 'advanced age and medical condition'. Ojdanic, 72, has been in the detention for the past 11 years and has been suffering from the atrophy of brain cortex since 2008. The letter also notes that Ojdanic was aware of the legal consequences of his decision. Once Ojdanic withdraws his appeal, he will not have an opportunity to ask for a review of the judgment, its reversal or the overturning of the findings in Ojdanic's favor. Ojdanic believes that it is in the interest of justice to bring the proceedings in his case to an end.
Ojdanic surrendered to the Tribunal in April 2002. As he has spent more than two-thirds of his sentence in the Detention Unit, his defense is expected to soon file a motion for his early release. In line with an unwritten rule, most of the convicts ask for early release after they have served two-thirds of the sentence. In most of the cases, the Tribunal's President grants their requests.
Ojdanic was tried together with four other Serbian former political, police and military officials. Former deputy prime minister of the federal government Nikola Sainovic, VJ general Nebojsa Pavkovic and chief of the MUP staff for Kosovo Sreten Lukic were sentenced to 22 years for their involvement in the joint criminal enterprise whose aim was to expel Albanians from Kosovo in 1999. General Vladimir Lazarevic was given a 15-year sentence for his contribution to the enterprise. The appellate proceedings in the case are scheduled to begin on 11 March 2013. The parties will have a whole week to present their arguments and responses.