Home
SRETEN LUKIC 'DEMOTED' BY MILOSEVIC'S REGIME
The defense of police general Sreten Lukic sought leave from the Appeals Chamber to tender into evidence a number of documents that had not been translated before the end of the Kosovo Six trial. The defense contends that the documents are very important as they show that during his stay on Kosovo the accused was 'demoted by Slobodan Milosevic's regime'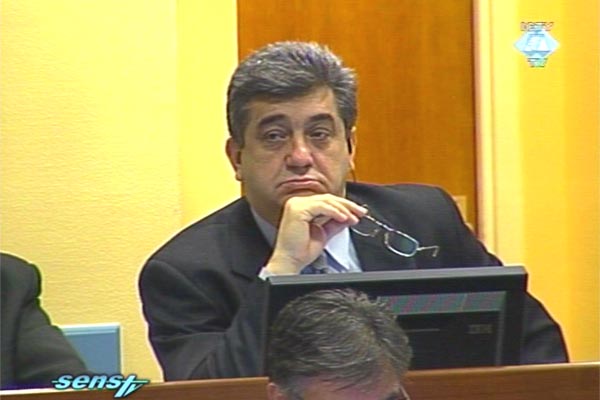 Sreten Lukic in the courtroom
The defense of Sreten Lukic, former chief of Serbian MUP Staff for Kosovo, filed today its motion to the Appeals Chamber, seeking leave to tender into evidence 17 new documents. 'Despite due diligence of the defense', the motion states, the documents could not be admitted into evidence during the trial. The defense claims that the problems were caused by the Tribunal's translation service which was unable to translate the documents before the end of the trial; also, the priority was given to the defense teams of the five other accused for the Kosovo crimes. Now that the translations are finally ready, the defense wants them to be admitted into evidence.
Pursuant to the Rules of Procedure and Evidence, new evidence may be admitted if it was not available during the trial and if it is deemed relevant and credible.
Most of those documents have to do with the KLA activities and their attacks on the Serbian security forces and civilians in Kosovo. According to the defense, some documents from the Serbian police – such as the
Systematization of Posts and Pay Grades in the MUP
– show that in the field Lukic was not superior to all the police personnel in Kosovo, as the judgment found. The documents also indicate that when Lukic went to Kosovo he was 'demoted by Slobodan Milosevic's regime', the defense noted.
In February 2009, the Trial Chamber sentenced Sreten Lukic to 22 years for his role in the joint criminal enterprise headed by Milosevic and aimed at the expulsion of Albanian civilians from Kosovo in 1999. Former deputy prime minister in the federal government Nikola Sainovic and General Nebojsa Pavkovic received the same sentence. Generals Dragoljub Ojdanic and Vladimir Lazarevic got 15 years in prison each. Milan Milutinovic, former Serbian president, was acquitted of all charges.
The prosecution in the meantime asked for harsher sentences for all convicted. The prosecution didn't appeal against acquittal of Milutinovic. The defense teams of the other five accused asked either for the acquittal or, alternatively, milder sentences for their clients.