Home
APPELLATE PROCEEDINGS IN THE KOSOVO FIVE CASE
There were no contention issues or pending motions at the status conference, but no mention either of a possible date for the appellate hearing in the case against Serb officials convicted of crimes on Kosovo in 1999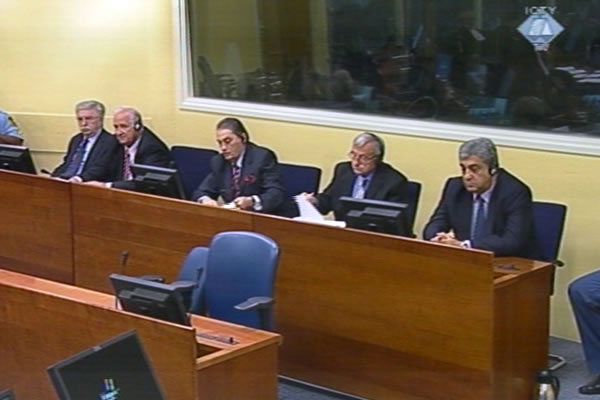 Nikola Sainovic, Nebojsa Pavkovic, Sreten Lukic, Dragoljub Ojdanic and Vladimir Lazarevic in the courtroom
A status conference was held in the appellate proceedings against five Serb political, military and police officials convicted of crimes committed in Kosovo in 1999. This was the only hearing today in the Tribunal's courtrooms.
This was a regular status conference scheduled under the Tribunal's Rules every 120 days to consider the course of the proceedings and to allow the accused to raise any health issues or problems with the conditions of detention. In February 2009, the Trial Chamber sentenced former vice-president of the federal government Nikola Sainovic, VJ general Nebojsa Pavkovic and chief of the MUP Staff for Kosovo Sreten Lukic to 22 years. General Dragoljub Ojdanic and Vladimir Lazarevic received 15 years in prison. Former Serbian president Milan Milutinovic was acquitted of all charges. The prosecution didn't appeal against Milutinovic's acquittal.
The five convicted officials have all sought for their acquittal in the appeals. The prosecution contends that the sentences were inadequate and asked the judges for harsher penalties. Judge Liu Daqun indicated that there were no pending motions at this time. The parties did not have any issues to raise and there was no mention of a possible date for the appellate hearing. SENSE has learned that the hearing, which would give the parties an opportunity to present their oral arguments would probably not be held before March 2013.
The accused are regularly invited to address the Chamber regarding the conditions in the Detention Unit or health issues; only Vladimir Lazarevic did so today. He reminded the judges of his 'ill health'. A report by a Serbian medical team on Lazarevic's health is currently before the Serbian government, Lazarevic said. The government would address the judges on the issue in writing.
The next status conference will be held in four months time.