Home
GENERAL LUKIC WILL NOT 'CHANGE ENVIRONMENT'
The Appeals Chamber today dismissed the motion filed by the former chief of the Serbian MUP for Kosovo Sreten Lukic to grant him a 'time out' and 'a change of environment'. The defense asked the judges to allow the accused to go to Serbia for a while. This would make it easier for him to prepare for his continued detention and eventually, for his sentence. The Trial Chamber sentenced Lukic to 22 years in prison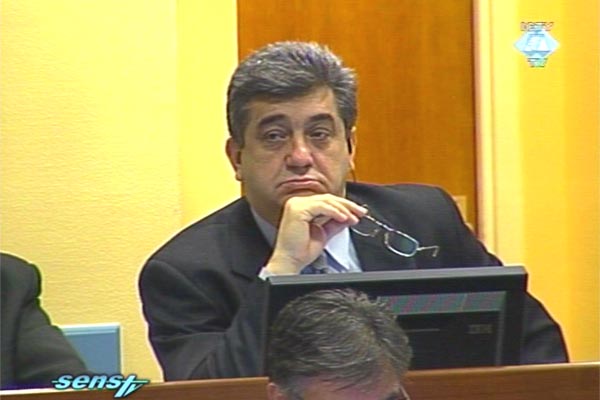 Sreten Lukic in the courtroom
In mid-March 2012, the defense of General Sreten Lukic filed a motion to the Appeals Chamber asking the judges to grant the accused provisional release pending the appellate hearing that hasn't been scheduled yet. Alternatively Lukic's defense asked the judges to allow the accused to be released 'for a period set by the judges'. Today the motion was dismissed because the Chamber ruled that the conditions for Lukic's provisional release from detention haven't been met.
The defense invoked 'humanitarian reasons' in support of their motion for provisional release: on grounds of the 'deteriorating mental and psychological health' of the accused.His ill health is compounded with his detention. The defense contends that a 'time out' and 'at least a brief change of environment' would allow Lukic to prepare better to face 'continued detention'. This would also 'have significant benefits' for Lukic's health. In support of its argument, the defense proffered the reports by three Serbian doctors on Lukic's health submitted in February 2012.
The judges noted that the report was signed by doctors who examined the accused last time about seven years ago. In their report the doctors didn't mention any specific complications; they spoke in general terms about the potential health risks of the detention. The defense failed to convince the Trial Chamber that it would be impossible for Lukic to receive adequate treatment for his health problems in the Netherlands. The judges thus concluded that there were no grounds to grant Lukic provisional release.
Sreten Lukic, former chief of the Serbian MUP Staff for Kosovo, was found guilty in February 2009 for crimes against Kosovo Albanians in 1999 and was sentenced to 22 years in prison. Former vice-president of the federal government and chief of the Joint Command of the army and police for Kosovo Nikola Sainovic and General Nebojsa Pavkovic received the same sentence. Generals Dragoljub Ojdanic and Vladimir Lazarevic were sentenced to 15 years in prison. The Trial Chamber acquitted former Serbian president Milan Milutinovic of all charges.
The five men who were convicted appealed against the judgment. Their defense lawyers called for their acquittal. The prosecution also appealed, seeking harsher sentences for all of them. An appellate hearing is due to be scheduled soon.