Home
SESELJ TO PLEAD FOR THE THIRD TIME TO CHARGES IN THE THIRD CONTEMPT OF COURT INDICTMENT
The Serbian Radical Party leader will appear in court on 17 April in order to enter his plea for the third time to the counts in the third contempt of court indictment against him. He has been indicted because he has stubbornly refused to comply with the Chamber's orders to delete from his website confidential information about protected witnesses. He will have to reenter his plea because of the 'changes in the nature' of the charges against him, caused by his failure to comply with the latest order to remove the controversial information from his site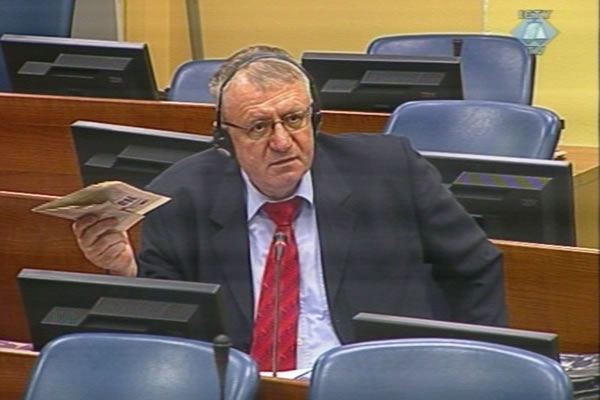 Vojislav Seselj in the courtroom
The third indictment charging Vojislav Seselj with contempt of court has been amended for the second time; as a result, Seselj will have to appear in court to enter his plea for the third time on this indictment - his third initial appearance. This is the latest update on the trials of the Serbian Radical Party leader, increasingly difficult to follow if one is not well acquainted with the intricate procedure and background of the four cases against Seselj before the Tribunal.
The 'main indictment' against him charges him with the crimes against non-Serbs committed from 1991 until 1993 in Croatia, Vojvodina and BH. The trial ended in March with the closing arguments of the parties and Judge Antonetti and his Chamber are now deliberating on the judgment. In the meantime, Seselj has been indicted three times for contempt of court. The first indictment was issued because Seselj published information that revealed the identity of three protected witnesses in a book he wrote. He was sentenced to 15 months in prison; the sentence was upheld on appeal. The second time, he was indicted because he published information about 11 other protected prosecution witnesses. The Trial Chamber sentenced him to 18 months in prison.
The Trial Chamber in charge of the contempt of court cases has ordered the accused several times to remove the books and other documents revealing confidential information about protected witnesses from his website: four books and six confidential documents from his case and the trial of Slobodan Milosevic. Since Seselj has refused to comply with the orders, a third contempt of court indictment was issued against him last May. In July 2011, Seselj pleaded not guilty, and then again failed to comply with yet another order issued by the Chamber to remove the controversial documents from his website. According to the judges, this called for additional charges against him, changing the 'nature of the indictment' against him. The Chamber therefore ordered the accused to appear in court and enter his plea. Seselj refused to enter his plea twice last November, and the Trial Chamber recorded a plea of not guilty on his behalf.
In the meantime, a new order has been issued, instructing Seselj to remove the controversial content from his website by 15 November. He has again failed to comply; as a result, the 'nature of the charges' against him has been changed again and he will be invited to enter his plea for the third time, or have a plea entered on his behalf, to the same charges. The scheduling order signed by Judge Trechsel has set the latest initial appearance of the Serbian Radical Party leader at 3 p.m. on 17 April 2012. Seselj will thus have yet another opportunity - after the closing argument he has presented recently at his main trial - to take direct part in the election campaign in Serbia.