Home
SESELJ'S THIRD CONTEMPT OF COURT TRIAL POSTPONED
Vojislav Seselj refused to participate in the trial on the third contempt of court indictment for purported lack of legal assistance. The Trial Chamber then postponed the trial until next Monday granting the Serbian Radical leader the 'last chance' to 'reconsider his attitude' once again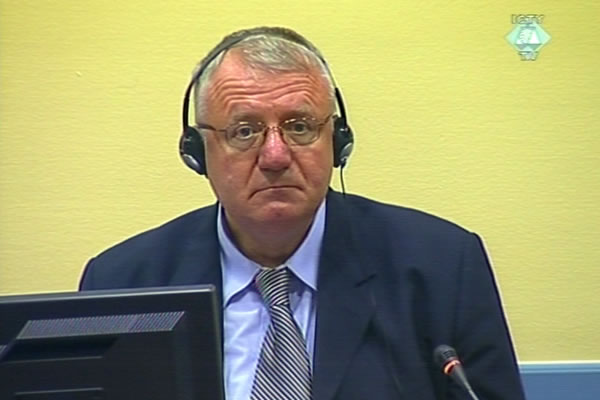 Vojislav Seselj u sudnici Tribunala
According to a previous plan Seselj was expected to move from the dock to the witness stand and then deliver his closing argument on the third contempt of court indictment. Instead, Vojislav Seselj refused to participate in the trial both as the witness and the accused that is representing himself. Seselj claims he was not ready for the beginning of the trial because he was denied procedural rights.
Seselj put forth two objections, first that in his view the trial couldn't begin until his previous request to remove judge Kwon from the Trial Chamber was resolved. Secondly, Seselj argued that he couldn't take part in the trial until he was granted 'direct contact' with legal advisor Dejan Mirovic and case manager Nemanja Sarovic. Mirovic was expected to lead Seselj's examination-in chief but didn't arrive in The Hague because his travel expenses weren't covered. The Radical leader admitted that the problem has been resolved in the meantime as the Registry agreed to pay Mirovic's air ticket. However, Seselj said that new problems arose in preparations for the defense because the Trial Chamber didn't accept Sarovic's appointment as case manager. It was then decided that neither Mirovic nor Sarovic travel to The Hague.
Presiding judge Trechsel clarified that the Trial Chamber didn't consider Seselj's request to disqualify judge Kwon. The accused failed to submit the motion in writing despite previous order to do so. The presiding judge went on to remind that Nemanja Sarovic's appointment was rejected because the 'case is a very simple one' and it was not necessary to engage him. At the same time Dejan Mirovic was 'welcome in the courtroom' for the examination-in chief of the accused, judge Trechsel stressed.
Seselj is charged with the third contempt of court indictment for repeatedly failing to comply with the Trial Chamber's orders to remove from his website confidential material disclosing information on protected prosecution witnesses. Previously, Seselj has been sentenced to 15 and 18 months in prison respectively at the first and second contempt of court trials for disclosing information on protected witnesses in his books. Seselj's judgment in his 'main case' for crimes against non-Serbs in Croatia, Vojvodina and BH is expected to be rendered in March 2013.
Seselj persisted in refusing to take part in the trial, to reply to questions of the judges and then to deliver his closing argument. The decision was therefore made to postpone the trial until Monday, 18 June 2012. The judges stressed that the 'Trial Chamber will not change elementary decisions and opinions' and the trial would continue on Monday with the participation of the accused or without his participation. Judge Trechsel concluded the hearing by saying that Seselj was thus given the 'last chance to re-consider the attitude he would assume in this case'. It remains to be seen how Seselj will use this opportunity.