Home
TUPAJIC: SCHEVENINGEN WOULD HAVE BEEN BETTER THAN SOKOLAC
Milan Tupajic's defense counsel urged the judges to acquit his client, wartime president of the Sokolac municipality, of contempt of court charges. He was indicted because he failed to testify in the Karadzic case. Tupajic complained about health problems and 'the events' after he testified against Krajisnik in 2005. 'Those seven years would have been easier for me in the Detention Unit in Scheveningen than in my town, Sokolac', Tupajic said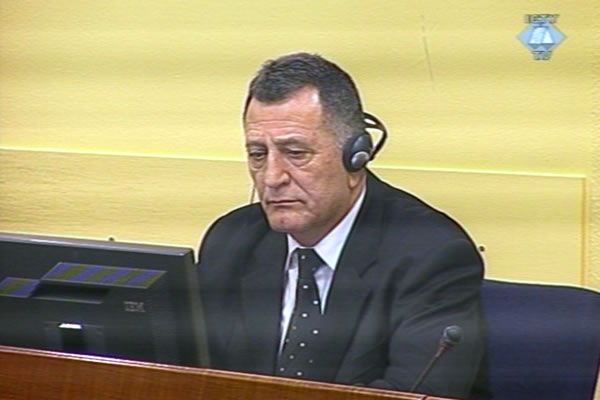 Milan Tupajic in the courtroom
In the closing argument at the trial of Milan Tupajic, wartime president of the Sokolac municipality, defense counsel Aleksandar Lazarevic called for the accused to be acquitted of the contempt of court charges. Tupajic was charged with knowingly and willfully interfering with the administration of justice because he twice failed to comply with the Trial Chamber's order to testify against former RS president Radovan Karadzic. Tupajic received the two subpoenas on 5 October and 8 November 2011.
Although in 2005 Tupajic gave evidence at the trial of Momcilo Krajisnik, the wartime speaker of the Bosnian Serb Assembly, he refused to repeat his testimony at Karadzic's trial. Tupajic claims that he told prosecutor Alan Tieger what his reasons were in a letter. Today, as he testified in his own defense, Tupajic repeated the reasons in private session; they were thus not broadcast publicly. From what the parties said in open session, it could be concluded that Tupajic's failure to comply with the Tribunal's order was justified by health reasons and 'the events after he testified in 2005', after his return to Sokolac. 'Those seven years would have been easier for me in the Detention Unit in Scheveningen than in my town, Sokolac', the accused said.
At Krajisnik's trial in late June 2005, Tupajic testified as a prosecution witness and confirmed that the SDS in Sokolac received orders from the party Main Board, headed by Karadzic. Tupajic also 'spoke for the first time publicly' about the mass executions of more than 80 Bosniaks in Novoseoci and Ravna Romanija. 'Until then, the mass execution had not been spoken of at all in Sokolac and Republika Srpska'.
As Tupajic said today, 'I stand behind everything I said in my testimony at the time'. He claimed that the decision not to comply with the Tribunal's subpoena ran 'contrary to my personal code of conduct', adding that 'I personally believe that my reasons should be sufficient' for the Trial Chamber to acquit him. If the Trial Chamber finds the accused guilty, the defense counsel wants the judges to consider in mitigation the reasons for Tupajic's failure to comply with the subpoena. The defense counsel concluded that Tupajic was 'an ordinary, humble family man' who 'has given his contribution to the Tribunal's mandate' by testifying at Krajisnik's trial.
Presiding judge Kwon said the judgment would be handed down 'in due time'. The two other judges, Morrison and Baird, praised the defense counsel for 'conducting the case in a professional and clear manner'.