Home
SESELJ 'PLEADS NOT GUILTY' AND WOULD DEARLY LIKE TO TAKE PART IN THE ELECTION CAMPAIGN IN SERBIA
The Serbian Radical Party leader pleaded not guilty for the third time on the third contempt of court indictment against him. He also presented a list of 'status' demands to the judges; one of the demands was to be allowed to address the Serbian media via video link as a part of the election campaign. Seselj heads the Serbian Radical Party slate and his wife is running for the president as a Serbian Radical Party candidate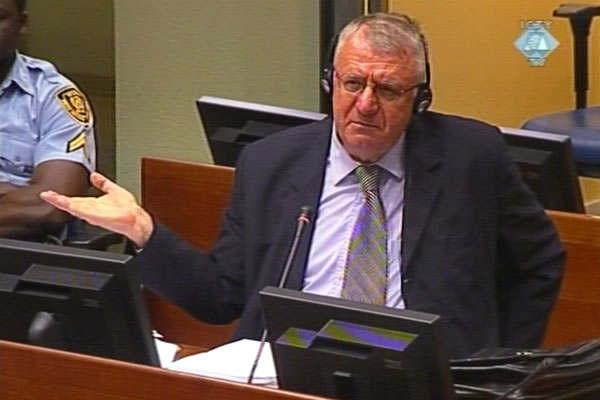 Vojislav Seselj in the courtroom
Vojislav Seselj pleaded not guilty today for the third time on the third contempt of court indictment issued against him in May 2011 because he failed to comply with the Trial Chamber's orders to remove four books and six confidential documents containing the information on protected prosecution witnesses from his website. Seselj had to re-enter his plea today because in the meantime he failed to comply with the amended order to remove the controversial material from the Internet. In the judges' opinion, this changed the 'nature of the indictment' against him.
After he entered his plea, Seselj presented four 'status issues', as he called them. Seselj first claimed the Tribunal lacked jurisdiction in contempt of court cases. Seselj then called for the disqualification of Judge Kwon because he was the presiding judge in the Trial Chamber that heard the two previous contempt of court cases against Seselj. The request was immediately dismissed: Judge Trechsel explained that he was the presiding judge in Seselj's third contempt of court case, not Judge Kwon.
Seselj's third request had to do with the elections in Serbia. The accused asked permission to address the Serbian media and public from the detention unit via video link. As Seselj explained, this would be 'a minor expenditure for the Tribunal', and it would benefit immensely Seselj, who heads the Serbian Radical Party slate. It would also improve the odds for his wife Jadranka, who is running for the Serbian president. As Seselj said, it was 'important' for his party to 'have a final showdown' with the Serbian authorities and 'even more important' to deal with the 'treacherous party' run by his former fellow Radical Tomislav Nikolic. Judge Trechsel interrupted Seselj, telling him that political speeches were not allowed in court.
Finally, the fourth 'status issue' the accused raised was the 'violation of my elementary right to an expeditious trial': the trial hasn't started yet, although the indictment was issued in May 2011.
Seselj has already been sentenced twice for contempt of court before the Tribunal. The Appeals Chamber has confirmed a 15-month sentence after Seselj was convicted of disclosing information about the identity of three protected prosecution witnesses in one of his books. The Trial Chamber sentenced Seselj to 18 months in prison on the same charges, this time because he disclosed the identity of 11 witnesses. In his 'main trial' Seselj faces charges for crimes against non-Serbs in Croatia, Vojvodina and BH. The trial ended in March 2012 with the closing arguments. Judge Antonetti's Trial Chamber will deliver its judgment in due course.
Seselj today entered his plea on the charges in the third contempt of court indictment against him. As regards the trial itself, Seselj repeated he planned to testify in his defense, and to call another two or three witnesses who are familiar with the running of his webpage.