Home
IS SESELJ READY FOR THE THIRD CONTEMPT TRIAL
At the status conference in the third contempt of court case against the Serbian Radical Party leader, he said that he had been ready to proceed to trial for a long time, but he immediately asked to be granted the right to privileged communication with his legal advisors to prepare his defense case, his testimony and the examination of three witnesses he intended to call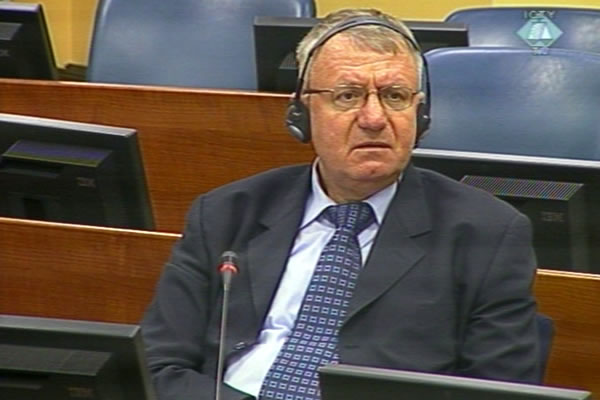 Vojislav Seselj in the courtroom
Vojislav Seselj is due to continue his closing argument at his trial for crimes in Croatia, Vojvodina and BH later this week. In the meantime, there was a status conference today in the third contempt of court proceedings against Seselj. The Serbian Radical Party leader has been indicted for refusing to withdraw from his website four books and five documents which contain confidential information which might identify protected prosecution witnesses. Seselj has already been sentenced twice for disclosing information on protected witnesses in his books. The Appeals Chamber has confirmed a 15-month sentence and the Trial Chamber sentenced him to 18 months in prison on the second indictment.
Asked if he were ready for the trial, Seselj first said it was a 'matter of God's will and the involvement of foreign dark forces'. The trial could have started a year ago, Seselj said, as he had been ready for a long time, and he planned to call witnesses in his case. Seselj explained that he intended to call his three associates who understood how his web page functioned and were familiar with his publishing business. The fourth and most important witness would be Seselj. Seselj represents himself at all trials against him before the Tribunal and thus cannot examine himself. Seselj intends his legal advisor and fellow party member Dejan Milovic to conduct the examination-in chief.
Seselj set a condition: he wants the issue of his communication with his advisors solved. When his legal advisors Dejan Mirovic and Boris Aleksic visited him last time they didn't talk about the case at all, Seselj said. They were convinced that they were under audio surveillance despite their right to the called privileged communication. The Tribunal's Registrar had arbitrarily decided to deny this right to Nemanja Sarovic, Seselj's case manager. The accused thus indicated that he would be ready to proceed to trial once his requests were met.
As is usual practice at status conferences, Seselj was given an opportunity to speak about the conditions in the detention unit and his health. As Seselj said, he has recently been prevented from using a copier in the detention unit. Speaking about his health, Seselj repeated his allegation that the 'darkest Western forces of the world assisted by their secret services are attacking my health'. Seselj promised he would nevertheless continue his fight against the Tribunal 'for as long as I breathe'. At the beginning of the hearing, Judge Baird said he had been told Seselj was unwell. Seselj replied that he was 'well enough' to be able to take part in the status conference today.
At the end, Seselj asked Judge Baird if the Trial Chamber intended to solve the problems related to his legal advisors. Everything Seselj has said has been noted down, the judge assured him, and Seselj could continue dealing with these issues 'in a legal manner'.