Home
MILAN TUPAJIC SENTENCED TO TWO MONTHS IN PRISON
The Trial Chamber found Milan Tupajic guilty of contempt of court. By refusing to testify in the case against Radovan Karadzic Tupajic deprived the judges of 'relevant evidence'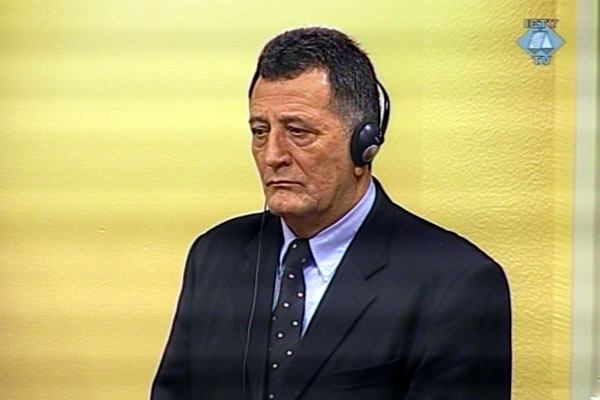 Milan Tupajic in the courtroom
Milan Tupajic, wartime president of the Sokolac Municipality, was found guilty of knowingly and willfully interfering with the administration of justice when he failed to comply with the Trial Chamber's subpoenas to appear as a witness at the trial of former Republika Srpska president Radovan Karadzic. Tupajic received a sentence of two months in prison.
As he handed down the judgment, presiding judge Kwon emphasized that by failing to give evidence Tupajic deprived the Trial Chamber 'of relevant evidence'.
The summary of the judgment notes that the subpoenas were delivered to Tupajic on 5 October and 8 November 2011. The witness was aware of the contents of the subpoenas and the consequences of failing to comply with them but nevertheless refused to testify naming health and other reasons as an excuse.
At his trial on 3 February 2012, Tupajic testified in his own defense. He complained about the 'incidents' that followed his return to Sokolac after he testified at the trial of the wartime Bosnian Serb Assembly speaker Momcilo Krajisnik in 2005. Tupajic said that it would have been easier for him to have spent 'the last seven years in the UN Detention Unit than in Sokolac'.
Appearing as a witness at the Krajisnik trial, Tupajic claimed that the local SDS board received orders from the party leadership headed by Karadzic. He also spoke openly 'for the first time' about the murder of more than 80 Muslims in Novoseoci and Ravna Romanija.
The Trial Chamber found that the reasons were not sufficient to justify Tupajic's refusal to give evidence in the case against Karadzic. Judges Kwon, Morrison, Baird and Lattanzi accepted 'health, family and financial reasons' Tupajic raised in his defense as mitigating circumstances in imposing the sentence.
The time Tupajic has already spent in the UN Detention Unit will be credited against his sentence.