Home
JELENA RASIC PLEADS GUILTY TO BRIBING WITNESSES
Former case manager in Milan Lukic's defense team pleaded guilty to all counts in the contempt of court indictment charging her with bribing witnesses to make them give false evidence at the trial for crimes against Muslims in Visegrad. Instead of the trial, there was a sentencing hearing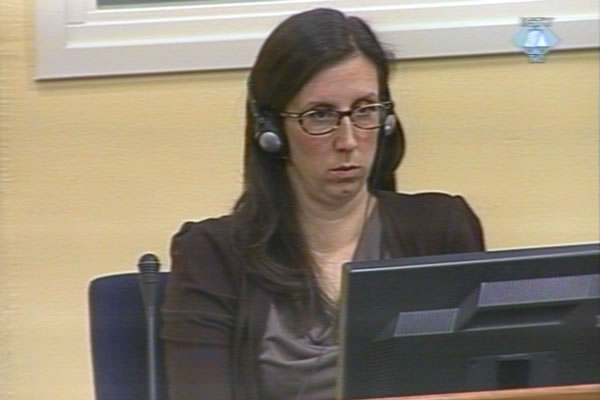 Jelena Rasic in the courtroom
Jelena Rasic, former case manager in Milan Lukic's defense team, today pleaded guilty to all counts in the contempt of court indictment against her. Rasic was charged with obstructing the administration of justice by bribing three witnesses. Rasic promised the witnesses money in exchange for false evidence in Milan Lukic's defense. The Trial Chamber sentenced Milan Lukic to life for crimes in Visegrad.
In September 2010, Jelena Rasic pleaded not guilty to the same indictment and the trial was scheduled to begin first on 9 and then on 23 January 2012. On 24 January 2012, the accused signed a plea agreement. When the judge asked Rasic if she now confirmed her guilty plea, Rasic responded that she was 'guilty and ready to bear the consequences' of her actions.
Prosecutor Paul Rogers presented the factual basis of the plea agreement. Rogers said that in October 2008, Rasic met Zuhdija Tabakovic from Visegrad, who was a police officer before the war. They met in Sarajevo. Rasic offered Tabakovic € 1,000 in cash to sign a pre-written statement in Milan Lukic's favor. Rasic also promised Tabakovic would get more money if he came to The Hague to testify.
Jelena Rasic then asked Zuhdija Tabakovic to find other witnesses who might confirm similar claims in their statements, again in exchange for money. Some days later, Tabakovic put Rasic in contact with persons who are identified as X and Y, who were willing to sign pre-written statements. The prosecution noted that Jelena Rasic 'accepts' that at that time she 'knew that it was very likely that the statements were false'.
The redacted versions of those statements were admitted into evidence as defense exhibits, and the prosecution received copies on 20 January 2009. Just three days later, the defense moved to withdraw all three witnesses. The defense indicated that other witnesses would testify in their stead, but this did not happen.
OTP investigators first interviewed Jelena Rasic on 3 March 2009. Today, the prosecutor compared Rasic's answers then and now. In the first interview with the prosecution, Rasic said that Milan Lukic and Jason Alarid gave her Zuhdija Tabakovic's contact details. Rasic met Tabakovic, interviewed him and took notes during their conversation. The defense lawyers later used the notes to draft the witness statement. Now, Rasic admitted that it was not true and that the defense lawyers had prepared the statements in advance. Co-counsel Dragan Ivetic sent Rasic the written statement. Rasic then printed it out and showed it to Tabakovic who then signed it.
The prosecution alleges that Jelena Rasic was 'in a position of trust' but 'cannot be considered organizer or architect of this criminal scheme" to bribe the witnesses. The prosecution noted that the fact that Rasic agreed to be interviewed by the prosecution couldn't be taken as a mitigating circumstance because her replies were designed to 'actively led the investigation astray in key aspects of the case'. Defense counsel Mira Tapuskovic contends that the interview cannot be considered an aggravating circumstance because the accused 'chose not to reveal facts that would incriminate her'.
Judge Howard Morrison's Trial Chamber indicated that the sentence would be handed down 'in the coming days, most likely on Tuesday, 7 February 2012'.