Home
TUPAJIC: 'I AM NOT GUILTY'
Former war president of the Crisis Staff in the Serb municipality of Sokolac Milan Tupajic pleaded not guilty to the counts in the contempt of court indictment against him. Tupajic was indicted because he failed to comply with the subpoenas compelling him to testify at the trial of former Republika Srpska president Radovan Karadzic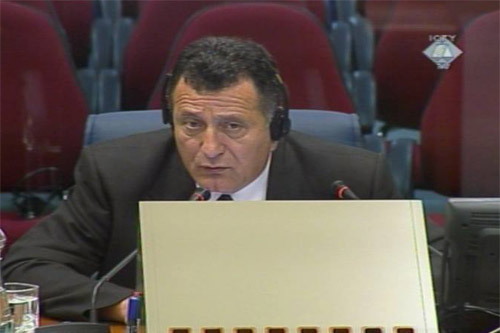 Milan Tupajic, witness in the Krajisnik trial
Former wartime president of the Crisis Staff and the Serb municipality of Sokolac Milan Tupajic pleaded not guilty to the contempt of court indictment against him. Tupajic was indicted because he failed to comply with the Trial Chamber's subpoenas compelling him to come to The Hague and give evidence at the trial of Radovan Karadzic, former Republika Srpska president.
Tupajic didn't take this opportunity to explain why he refused to testify in Karadzic's trial. Replying to Korean judge O-Gon Kwon, Tupajic merely stated that he stood by the reasons he gave to the prosecution in writing in 2009 and repeated orally in his conversation with prosecutor Alan Tieger. Tupajic has some other reasons not to testify, but did not share them.
After entering his plea, Tupajic will now stand trial, which could begin in January 2012 after the Tribunal's winter recess. Tupajic said he would need a lawyer to help him prepare for the trial. As he is unable to pay for his defense, Tupajic expects the Tribunal to assist him. Tupajic's appointed counsel Eugene O'Sullivan filed a motion for Tupajic's provisional release pending trial. The Trial Chamber will rule on it in due time.
In 2005, Tupajic was called by the prosecution to testify against Momcilo Krajisnik. Tupajic confirmed that the SDS in Sokolac and other municipalities received instructions from the SDS Main Board, chaired by Karadzic. Tupajic also confirmed that both Karadzic and Krajisnik publicly spoke about the strategic goal of separating the various ethnic communities in BH.
In his evidence at the trial of Krajisnik, Tupajic blamed the VRS troops for the attacks on the Muslim villages near Sokolac. In his evidence at the time, Tupajic spoke for the first time in public about the massacre of 37 Muslims in Ravna Romanija in May 1992 and about the execution of more than 40 men in the village of Novoseoci.
After the war, Tupajic served from 1996 to 2004 as the chairman of the SDS Deputies' Club in the RS Assembly, but was removed from the post at the behest of the High Representative in BH.