Home
WAR PRESIDENT OF SOKOLAC MUNICIPALITY INDICTED FOR CONTEMPT OF COURT
The Tribunal stated today that Milan Tupajic, war president of the Crisis Staff and the Serb municipality of Sokolac, has been arrested in BH on a contempt of court indictment issued by the Tribunal. Tupajic is currently awaiting transfer to The Hague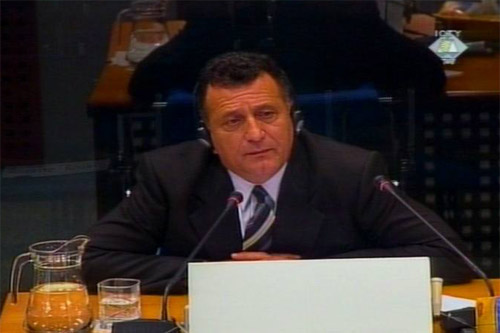 Milan Tupajic, witness in the Krajisnik trial
Milan Tupajic, former president of the Crisis Staff and the president of the Sokolac municipality, has been charged with contempt of court, the Tribunal stated today. Tupajic refused to appear as a prosecution witness at the trial of Radovan Karadzic despite two subpoenas issued to him by the Trial Chamber.
A confidential order in lieu of indictment of 30 November 2011 that was unsealed today stated that the Trial Chamber issued two subpoenas to Tupajic compelling him to testify, on 23 September and 3 November 2011. Tupajic was informed about the two subpoenas on 5 October and 8 November 2011 respectively. It was made clear to Tupajic that the subpoenas compelled him to appear before the Tribunal, or if that was not possible, to provide good cause why he couldn't do it. As Tupajic failed to appear in court and didn't justify this failure, he was charged with 'deliberate and willful obstruction of justice'.
A warrant for Tupajic's arrest was issued on 30 November, and the 'Bosnian authorities', as stated in the Tribunal's press release, arrested Tupajic on Tuesday, 13 December 2011. Preparations for Tupajic's transfer to the UN Detention Unit in Scheveningen are under way. The date of Tupajic's initial appearance before the judges will be disclosed later.
In 2005, Tupajic gave evidence as a prosecution witness against Momcilo Krajisnik. In his testimony, Tupajic confirmed that the SDS in Sokolac and other municipalities received instructions from the SDS Main Board, headed by Radovan Karadzic. Tupajic also said that 'Radovan Karadzic and Momcilo Krajisnik stood out because of their influence and the authority they wielded' in the SDS and Republika Srpska. The witness confirmed at Krajisnik's trial that both Karadzic and Krajisnik made public references to the strategic goal of separating the various ethnic communities. Speaking about the attacks on the Bosniak villages near Sokolac, Tupajic shifted the blame on the VRS troops, claiming he had 'no information' that the RS police aided the military in those crimes.
During his evidence at the Krajisnik trial, Tupajic 'spoke for the first time in public' about the massacre 'which was not discussed until then in RS and little was known about it'. In May 1992, the bodies of 37 Bosniaks were discovered in Ravna Romanija. The witness ordered them to be buried at the site and the site to be cleaned up. Later, Tupajic said, he concluded that the victims may have been the people who had been taken from Nedzarici, a part of Sarajevo.
After the war, from 1996 to 2004, Tupajic served as the chairman of the SDS Deputies' Club in the RS Assembly. Tupajic was ousted from the post at the behest of the High Representative in BH.