Home
ENCLAVES WERE 'RIPE FOR THE PICKING'
Colonel Petar Salapura, former chief of the Intelligence Administration in the VRS Main Staff, described a conversation with the accused Zdravko Tolimir in the spring of 1995. Tolimir agreed with Salapura's assessment that any attacks on the eastern enclaves would be 'counterproductive' and would prompt a strong response of the international community. Tolimir added that those enclaves were 'ripe for the picking' anyway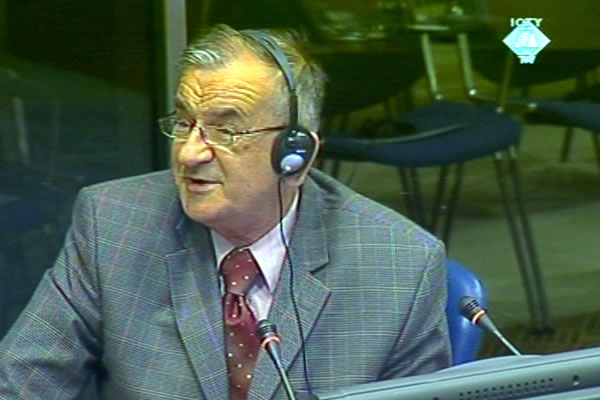 Petar Salapura, witness at the Zdravko Tolimir trial
Retired VRS colonel Petar Salapura began his evidence today as a prosecution witness at the trial of his former superior, General Zdravko Tolimir. Tolimir is on trial for genocide and other crimes in Srebrenica and Zepa in the summer of 1995. During the war in BH, Salapura was chief of the Intelligence Administration in the VRS Main Staff. The administration Salapura headed worked in tandem with the Security Administration; the two formed the Intelligence and Security Sector. The accused Tolimir, Mladic's assistant for security in the VRS Main Staff, was the chief of the Intelligence and Security Sector.
At the request of the prosecutor, the presiding judge warned Salapura before he started his evidence that he didn't have to answer questions that could incriminate him. Salapura didn't exercise this right today, but nevertheless evaded direct answer to some of the prosecutor's questions.
One of these questions was whether Salapura knew about the Directive 7. The document, signed by Republika Srpska president Radovan Karadzic on 8 March 1995, states that the VRS should 'by planned and well-thought-out combat operations, create an unbearable situation of total insecurity, with no hope of further survival or life for the inhabitants of Srebrenica or Zepa.' Salapura claimed that he didn't know about any directive at the time, adding that he heard about the Directive 7 for the first time in 2004, when he testified for the first time as Vidoje Blagojevic's defense witness. Blagojevic was the commander of the VRS Bratunac Brigade. Salapura didn't budge, even when the prosecutor showed him the document of 31 March 1995, in which Mladic orders the launching of Operation Sadejstvo 95 'on the basis of the Directive 7'.
When the prosecutor put it to him that based on this order he had to have known about the directive, Salapura disagreed. He claims that only those who in anyway 'participated in the preparation and drafting of the directive' knew about it, and he wasn't one of them. Salapura also rejected the prosecutor's claim that the next VRS operation on 24 June 1995, was in fact designed to create 'an unbearable situation of total insecurity' for the population of Srebrenica, as stated in the Directive 7. In the operation, the VRS soldiers attacked the UNPROFOR checkpoint in Zeleni Jadar. According to Salapura, the objective of the operation was to 'warn the Muslim side' to stop their incursions from the enclave and to 'put pressure on UNPROFOR' to disarm the people in the protected zone or prevent the BH Army attacks from the enclave.
Salapura claims that in the spring of 1995 he told Tolimir that 'the eastern enclaves should absolutely not be touched', as it would be counterproductive: the international community would respond vehemently. Tolimir agreed with Salapura, adding that the enclaves were 'ripe for the picking', Salapura said.
Petar Salapura continues his evidence tomorrow.