Home
HOW DID THE VRS MAIN STAFF FUNCTION
Bosnian Serb army general Ljubomir Obradovic testifies at the trial of Zdravko Tolimir for genocide and other crimes in Srebrenica and Zepa. Obradovic described the structure and function of the VRS Main Staff and the role of the accused general. At the time, Tolimir was Mladic's assistant commander for security and intelligence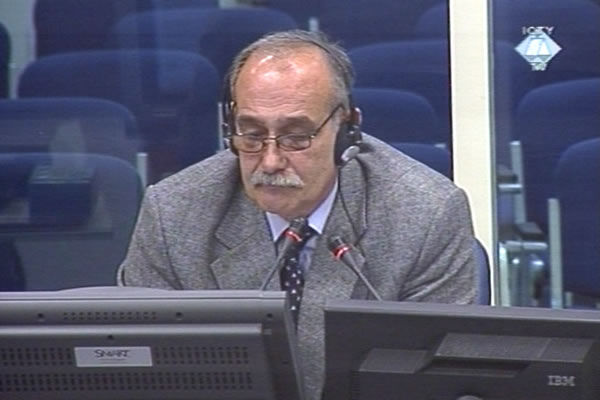 Ljubomir Obradovic, witness at the Zdravko Tolimir trial
British general Rupert Smith completed his evidence at the trial of General Zdravko Tolimir today. The next witness was VRS general Ljubomir Obradovic. This is his second testimony as a prosecution witness before the Tribunal. In November 2008, Obradovic testified against his former superior, General Radivoje Miletic, who was on trial with six other Bosnian Serb officers for genocide and other crimes in Srebrenica and Zepa. The Trial Chamber sentenced General Miletic to 19 years in prison, and his case is currently under appeal.
In his evidence today, Ljubomir Obradovic confirmed that in the summer of 1995 he served as chief of operations in the Training and Operations Administration in the VRS Main Staff. In his replies to the prosecutor, Obradovic described in detail the structure of the VRS Main Staff and the way in which it functioned. Obradovic also spoke about the place and role of the accused general Zdravko Tolimir.
As one of Mladic's assistants, General Tolimir headed the security and intelligence department in the Main Staff. Together with five other high-ranking officers that headed five other departments in the Main Staff, Tolimir was a member of Mladic's inner circle. Tolimir's department comprised two sectors and their heads were Tolimir's immediate subordinates. Colonel Salapura was chief of the intelligence department and Colonel Ljubisa Beara headed the security department. As a member of the Srebrenica Seven, in June 2010 Beara was found guilty of genocide and other crimes and was sentenced to life. Beara's case is also under appeal.
According to Obradovic's description of the structure of the Main Staff, Tolimir was in charge of the 10th Reconnaissance and Sabotage Detachment. The detachment was tasked with securing the Main Staff and its commander Mladic. As alleged by the prosecution, on 16 July 1995 this detachment was involved in a mass execution of over 1,000 Bosniaks captured after the fall of Srebrenica at the Branjevo military farm near Zvornik. The detachment also executed 500 Bosniaks in the Culture Hall in the village of Pilica. Drazen Erdemovic, who was a member of the detachment, has testified about it before the Tribunal.
Ljubomir Obradovic continues his evidence tomorrow.