Home
'MEMORIES OF WAR HAUNT' PUSIC
Berislav Pusic's defense contends that the prosecution has failed to prove the guilt of the former chief of the Commission for the Exchange of Prisoners, calling for his acquittal. According to Pusic's defense, it is not true that Pusic 'has shown no remorse'. One of the reasons why Pusic has not attended the trial regularly is because he is 'haunted by the memories of war'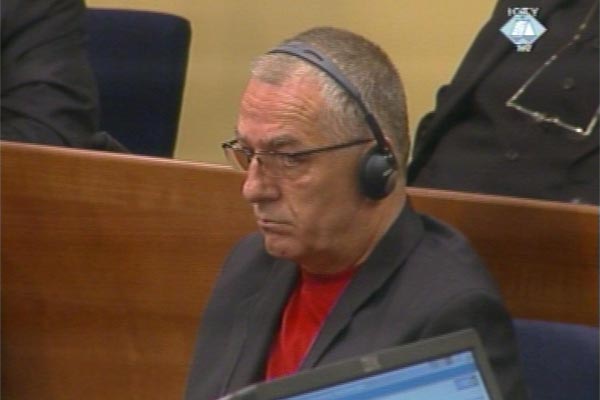 Berislav Pusic in the courtroom
Berislav Pusic's defense claims that the former chief of the Commission for the Exchange of Prisoners was not 'the alpha and omega' who decided on the release of prisoners from prison camps and prisons in Herceg Bosna as the prosecution alleges.
In the closing argument the prosecutor called for a sentence of 25 years for Pusic for crimes against Muslims in Central Bosnia and Western Herzegovina in 1993 and 1994. Crimes were committed as a part of the joint criminal enterprise headed by the then Croatian president Franjo Tudjman.
According to the defense, Pusic had no de iure or de facto powers stemming from his position as the chief of the Commission for the Exchange and president of the Commission for HVO Prison Camps and Prisons. As the defense put it, the titles 'may sound grandiose' but they don't reflect the real power Pusic had.
The defense argues that the Commission for the Exchange of Prisoners headed by Pusic from 5 July 1993 was responsible for providing 'technical support' to other Herceg Bosna bodies. The Commission for Prison Camps and Prisons, formed on 6 August 1993, was 'just a piece of paper'.
The fact that the prosecutor dropped the charges for crimes in Prozor in October 1992 and in Gornji Vakuf in January 1993 against Pusic 'is not consistent with the view that Pusic was a member of the joint criminal enterprise', the defense contends. It 'is not logical' to think that Pusic could have join the joint criminal enterprise later, in April 1993, as the prosecution alleges.
Pusic's lawyer Roger Sahota finally recalled that the accused was often unable to attend the trial for health reasons; in fact, he again was absent from court during the closing arguments presented by his defense. Contesting the prosecutor's claim that Pusic 'has shown no remorse' because he has not attended the trial, the defense counsel stressed that the health problems of the accused were caused 'among other things by the memories of war that haunt him'.
Prosecutor Kenneth Scott asked for four more hours to respond to the defense closing arguments. In the face of vigorous objections by all the defense teams, the Trial Chamber granted the prosecution three hours for its response. The Trial Chamber also gave fifteen minutes to the defense of the accused Jadranko Prlic to respond to the claims other defense lawyers made about Prlic. The Trial Chamber indicated that the accused would be granted an opportunity to address the Trial Chamber if they wished to do so.
The court is scheduled to go into session on Tuesday, 1 March 2011. If everything goes as planned, the trial of the former Herceg Bosna leaders might be completed either on Tuesday or the next day.