Home
CORIC: MILITARY COMMANDERS ARE RESPONSIBLE
Valentin Coric's defense called for the acquittal of the former chief of the HVO military police administration. Coric's defense contends that military commanders are responsible for what the military police did or didn't do. The defense of Berislav Pusic, the last accused of the six Herceg Bosna leaders, began its closing argument today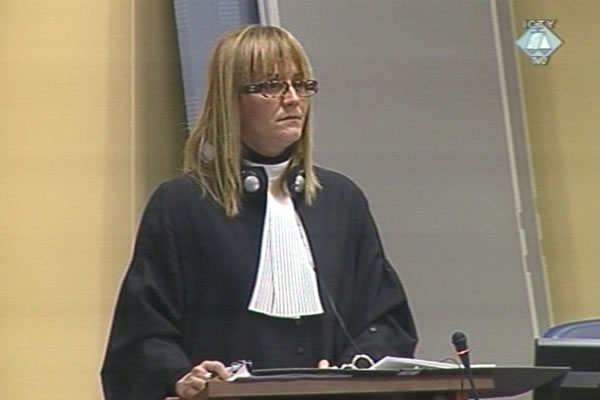 Dijana Tomasegovic Tomic, defense attorney of Valentin Coric
Valentin Coric's defense lawyer asked in the closing arguments for acquittal of her client, the former chief of the HVO military police administration on all counts in the indictment. Coric is charged together with the five other Herceg Bosna leaders with crimes against Muslims in Central Bosnia and Western Herzegovina 1993 and 1994.
Coric's defense contends that the military police administration did not have the power to investigate and indict those who committed crimes. Civilian and military judicial bodies were in charge of those decisions, Coric's lawyer Dijana Tomasegovic Tomic said. In the period relevant for the indictment, the military police in fact filed most of the 269 criminal reports for various crimes against Muslims, she added.
The defense also denied that Coric was responsible for the establishment of check points and blocking humanitarian convoys. Military commanders made decisions about the freedom of movement in their areas of responsibility and they were under the command of the HVO Main Staff. The defense contends there is no evidence linking Coric to sniper attacks on civilians in Mostar in the relevant period, from 30 June to 24 July 1993.
According to the defense, the prosecution's claims that Coric showed 'a voracious appetite for Muslim apartments', because he issued unlawful decisions authorizing their seizure, were groundless and 'offensive'. The defense also contests that Coric contributed to the joint criminal enterprise by authorizing the deportation of Muslims from HVO prisons and prison camps. Those prisoners were released on condition that they had to leave the country with their families. In the defense's view, military commanders decided the fate of prisoners.
Some incriminating documents are 'forgeries', the defense claims. The prosecution's position that the documents are authentic because they bear the stamps of the Archive is unacceptable, Tomasegovic Tomic said, particularly if one bears in mind that the OTP itself contested the authenticity of a similar document at the trial of Tihomir Blaskic. In the Tihomir Blaskic case, the Appeals Chamber significantly reduced Blaskic's initial sentence based on a document in which all the information could be traced back to its source, Blaskic's lawyer Anto Nobilo, as it turned out later.
The defense of the last accused, Berislav Pusic, took the floor then. Pusic himself didn't attend the closing arguments for health reasons. In fact, Pusic was not often mentioned during the trial. Pusic's defense first denied all the allegations in the indictment, claiming that Pusic was nothing but 'a low-ranking clerk'. The defense explained that Pusic had had no authority to make military decisions and urged for his acquittal.
Berislav Pusic's defense will continue its closing arguments tomorrow morning.