Home
TRIBUNAL ASKS SLOBODAN PRALJAK TO PAY BACK 3,3 MILLION EURO
General Praljak owes over 3 million Euros to the Tribunal: the sum paid to his defense lawyers because he claimed legal aid as an indigent. Praljak and five other Herceg Bosna leaders are currently awaiting judgment on the indictment for crimes against Bosnian Muslims. The investigation conducted over several years established that Praljak was not indigent and was able to pay for his own defense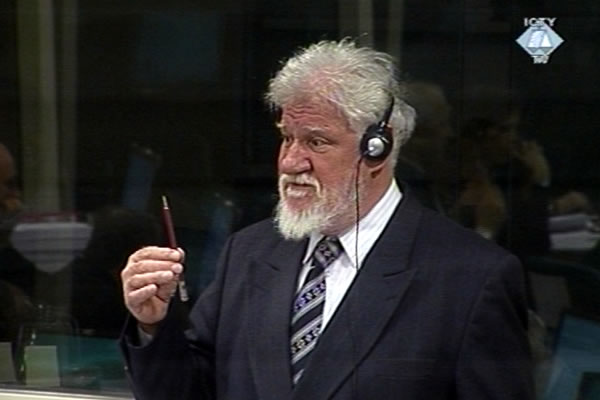 Slobodan Praljak in the courtroom
The Tribunal's Registry wants Slobodan Praljak to pay back 3,293,000 Euro: this is the amount the Registry paid in the past eight years from the legal aid fund to Praljak's defense team.
On his arrival in the UN Detention Unit in April 2004, Praljak said he didn't want to be represented by a lawyer paid by the Tribunal and that he would pay for his own defense. Soon thereafter, Praljak changed his mind and asked the Tribunal to cover the costs of his defense, claiming he was indigent. In the period from September to June 2005, the Registry and Praljak exchanged voluminous correspondence regarding the documentation the accused need to provide in order to prove they cannot cover the defense costs on their own.
In mid-2005, the Registry denied Praljak legal aid because he had failed to provide the necessary documents proving he was indigent. The Trial Chamber I supported this decision. Praljak then first wanted to represent himself. In early 2006, when the Trial Chamber II took over the case against former Herceg Bosna leaders, Praljak once again submitted his request for money to pay for his lawyers. The new Trial Chamber granted Praljak's request on condition that he answered 23 questions about his financial status. Despite the fact that Praljak never answered these questions fully, the Registry bore the costs of Praljak's defense.
In a detailed investigation conducted in several countries, including the countries of the former Yugoslavia and Germany, the Registry established that Praljak was not indigent. Applying the formula from the Guidelines to establish to what extent an accused was able to participate in the defense costs, it was calculated that Praljak had at his disposal at least 6,456,000 Euro to pay for his defense. The amount was calculated by subtracting the estimated cost of living for Praljak, his wife, his family members and other persons he shares the household from the total amount available to Praljak.
In line with the guidelines, a family house or apartment, furniture and cars which exceed the reasonable needs of the accused and his family members, money in bank accounts, shares and bonds, income from private businesses, wages or pension all count when the Registry calculates the funds the accused has at his disposal. In Praljak's case, it was established that in addition to the house and apartment in Zagreb and other real estate in Croatia and BH, a car and a yacht, Praljak and his wife receive old age pensions.
Praljak is currently represented by lawyers Nika Pinter and Natasa Fauveau Ivanovic; the latter was appointed co-counsel as the defense case drew to its close. For most of the trial, Praljak was defended by Bozidar Kovacic.