Home
PROJECT THAT LED TO BLOODSHED
In his response to the defense closing arguments at the trial of the former Herceg Bosna leaders, the prosecutor insisted that the accused 'although they didn't have blood on their hands... put together plans that led to the spilling of many people's blood'. Prlic, Stojic, Praljak and Petkovic will address the Trial Chamber tomorrow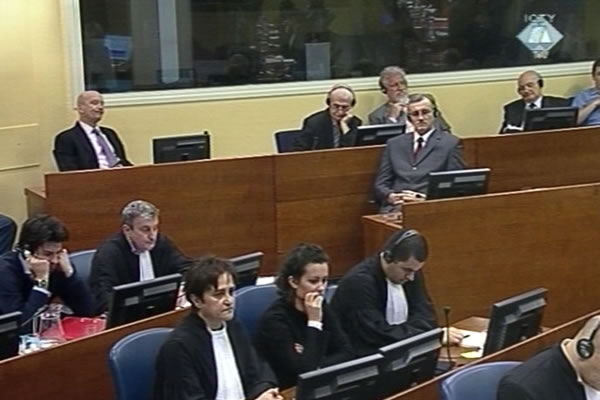 Jadranko Prlic, Milivoj Petkovic, Bruno Stojic, Slobodan Praljak, Valentin Coric i Berislav Pusic in the courtroom
As the trial of the former Herceg Bosna leaders entered the final stretch, the prosecution responded to the closing arguments presented by the defense teams of the six former Herceg Bosna leaders. The six are charged with their role in a joint criminal enterprise in which crimes were perpetrated against Muslims in 1993 and 1994.
Prosecutor Kenneth Scott recalled that the prosecution holds the joint criminal enterprise originated in the nationalist faction in the HDZ headed by Franjo Tudjman. The goal was to conquer parts of BH territory that coincided with the borders of the former Croatian Banovina in 1939. The Croat majority had to be secured in that territory where everything should 'look, sound and feel Croatian'.
'The men in the dock are no strangers to this program of crime', prosecutor Scott said, stressing that Prlic, Stojic, Praljak, Petkovic, Coric and Pusic 'were at the very core of the events'. Although they 'don't have blood on their hands', they 'put together plans that led to spilling of many people's blood'. The prosecution believes that it 'carried through the burden of proof' and urges the Trial Chamber to find all six accused guilty, the prosecutor concluded. The prosecutor called for a sentence of 40 years for Prlic, Stojic, Praljak and Petkovic, 35 years for Coric and 25 for Pusic.
After the prosecutor presented his response, Prlic's lawyer Michael Karnavas took the floor to reply to the arguments put forth by the prosecution and by other defense teams about his client. In its closing arguments, General Petkovic's defense claimed that the center in Ljubuski was intended for the detention of prisoners of war, while Prlic's lawyer claims the facility was meant to accommodate only the Croatian refugees from Central Bosnia.
After Karnavas completes his response, the lawyers of all other accused will address the Trial Chamber for a maximum of 30 minutes. At the hearing tomorrow, Jadranko Prlic, Bruno Stojic, Slobodan Praljak and Milivoj Petkovic will address the Trial Chamber. The accused Valentin Coric waived his right to address the judges. Berislav Pusic will not appear in court tomorrow for medical reasons.