Home
HOW TO SURVIVE MLADIC'S PROMISES
In the cross-examination of a survivor of the execution in Branjevo, General Zdravko Tolimir, Mladic's former assistant for security in the VRS Main Staff, tried to defend his former commander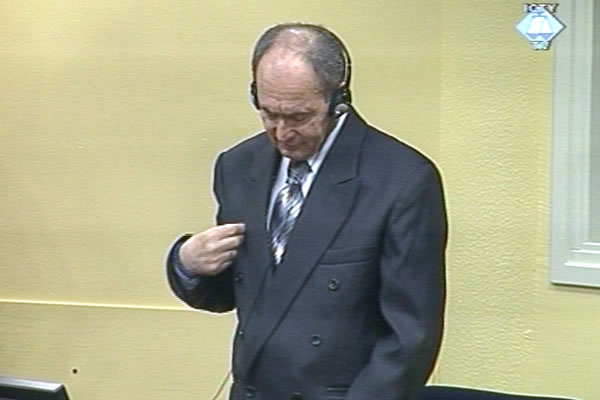 Zdravko Tolimir in the courtroom
The prosecution at the trial of Zdravko Tolimir called a witness who testified under the pseudonym PW-016. On 16 July 1995, the witness survived an execution at the Branjevo farm. According to the indictment, more than 1,000 Muslims captured after the fall of Srebrenica were executed there. The witness's evidence from the trial of General Radislav Krstic was tendered into evidence and the prosecutor read the summary of the statement.
After the arrival of Mladic's troops in Srebrenica, the witness joined the long column of soldiers and civilians heading toward Tuzla through the woods. When the Serb soldiers ambushed the part of the column where the witness was, the witness was captured and detained in the school in Nova Kasaba. From there, he was transferred to a football field half-filled with prisoners, who were lined up. General Mladic came soon afterwards, and promised to the prisoners that they would be taken to 'Bratunac for lunch and then to Batkovic where they will be exchanged'.
The captured Muslims were taken to Bratunac but instead of having lunch, they were awake all night, without any food or water. The next day they were taken to a school in the village of Pilica near Zvornik. Two days later, on 16 July 1995, the witness, with his hands tied behind his back, was brought before an execution squad at the Branjevo farm. The bullet only grazed the witness's back but he fell down and lay among the dead until the next day. Together with another survivor the witness tried to find a way to the liberated territory. Exhausted, the witness finally surrendered to the Serb forces and was taken to the Batkovic prison camp near Bijeljina, where he was detained until 26 December 1996, when he was exchanged.
In the cross-examination, the witness confirmed to the accused general that he had served in the BH Army 28th Division, claiming he had not been armed. Tolimir put it to the witness that 'General Mladic's promises' came true in his case: he eventually arrived in Batkovic, although with a delay, and was exchanged there. 'Yes, after he executed 10,000 persons', the witness commented, adding that the reason why he was able to reach Batkovic was because he escaped from the execution site.
The accused intended to corroborate his argument that the 'initial decision of the supreme commander' to exchange prisoners from Srebrenica was 'later changed' and the prisoners were executed. When Tolimir asked the witness if there was a possibility that the decision had been changed, the witness couldn't say.
The trial continues on Monday with the evidence of Mile Simanic. In the summer of 1995, Simanic was deputy commander in the 5th Engineers Battalion of the VRS Drina Corps.