Home
SREBRENICA EXECUTION SITES WERE EXCAVATED FOUR TIMES
The area of Lazeta near Orahovac, the site of the execution and burial of about 1,000 Muslims, captured after Mladic's troops entered Srebrenica in July 1995, has been excavated four times, said Fredi Peccerelli at the trial of Zdravko Tolimir. Peccerelli is a forensic anthropologist and was in charge of the last excavation in the summer of 2000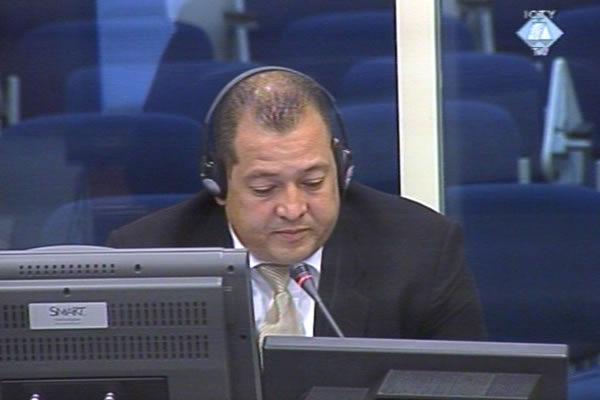 Fredi Peccerelli, witness at the Zdravko Tolimir trial
About 1,000 Muslims were executed on 14 July 1995 at the execution site near Orahovac, alleges the indictment against General Zdravko Tolimir, Mladic's assistant for security in the VRS Main Staff. The Muslims were captured after the fall of the Srebrenica enclave. Their bodies were buried in mass graves dug by the military engineering unit of the Zvornik brigade near the execution site, the indictment alleges.
Excavation work has been done in the area three times since that time, according to forensic anthropologist from Guatemala Fredi Peccerelli, who is testifying at Tolimir's trial. In 2000, Peccerelli was in charge of the exhumations of the mass graves at Lazeta 1 and Lazeta 2 sites.
From July 1995 to August 2000, excavations were carried out in the Lazeta area twice more. First, in September 1995, some bodies were removed from the mass graves to be buried in the so-called secondary graves in a secret operation the VRS had launched that fall to eliminate all evidence of their crimes. After that, in 1996, the Tribunal's prosecution asked a forensic team from the organization Physicians for Human Rights to start exhuming the bodies at the Lazeta 2 site. The forensic experts dug two trenches, found some bodies and stopped their work. As far as Peccerelli could recall, they did it for 'security reasons'.
Today the prosecutor tendered into evidence Peccerelli's expert report on the exhumations at Lazeta 1 and Lazeta 2 sites in the summer of 2000. The remains of 127 persons were recovered from the mass grave at the first site, and two more bodies were found in a nearby trench. About 89 cloth blindfolds were recovered from the grave and more than 450 7.62mm rifle casings were collected on the surface. Some wristwatches were found and there were personal documents on three bodies.
At the second location, which was, according to the witness, 'dug up without authorization' in the fall of 1995, the Physicians for Human Rights team dug out two trenches in 1996. In August 2000, forensic experts found another 16 complete bodies and 26 body parts. Blindfolds were also found, made of the same cloth as those recovered from the Lazeta 1 grave. A total of 671 rifle casings were collected from the surface.
In the cross-examination, the accused asked the Guatemalan anthropologist to explain the difference between 'complete and incomplete bodies and body parts' recovered from mass graves. The accused also asked the witness to what extent the DNA identification depended on the degree of kinship between the victim and the person who provided the sample. He wanted to know if it was possible to identify a person based on a single recovered bone and what could be established from a watch found in a mass grave.
After Peccerelli, the prosecutor called Mitar Lazarevic to the witness stand. Lazarevic, former assistant commander in the Second Battalion of the VRS Zvornik Brigade, continues his evidence tomorrow.