Home
FATE OF THE WOUNDED FROM ZVORNIK HOSPITAL
In mid-July 1995, wounded Muslim prisoners from the Srebrenica area were transferred from the health center in Milici to the Zvornik hospital. The question is: were those prisoners taken the next day to Tuzla for medical treatment or were they brought to the VRS Zvornik Brigade military infirmary in Karakaj? The prosecution alleges that the wounded prisoners were executed in Karakaj soon after their transfer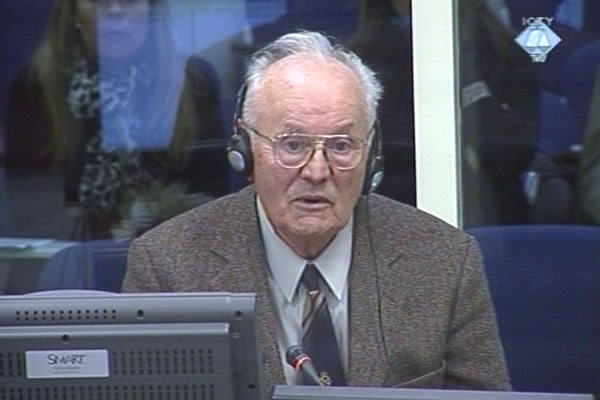 Jugoslav Gavrić, witness at the Zdravko Tolimir trial
Doctor Jugoslav Gavric, retired director of the medical center in Zvornik, transferred a group of wounded Muslim prisoners from the health center in Milici to the hospital in Zvornik in mid July 1995 on the orders of the VRS medical service chief in the VRS, Ratko Rokvic. In March 2007, Gavric testified about that at the trial of seven Bosnian Serb military and police officers charged with crimes in Srebrenica and Zepa. Today, the transcript of Gavric's testimony was tendered into evidence at the trial of General Zdravko Tolimir, who is charged with genocide and other crimes in Srebrenica and Zepa in 1995.
The prosecutor read out the summary of the witness's evidence. After he received a written order signed by Dr. Davidovic, chief of the Military Medical Center, Dr. Gavric brought a 'group of 10 to 15 wounded persons' escorted by a soldier and a nurse to the Zvornik Hospital. Some of them had serious abdominal wounds. The witness recounted that those patients had been given first aid in the health center in Milici. Their medical records were put together there, and Dr. Gavric received them.
Some of the wounded prisoners were critical and the next morning, as soon as he got to work, Dr. Gavric asked if all of them had survived the night. The witness claims he was told that all of them were alive and that they had been transferred to Tuzla for further medical treatment. As the prosecution alleges, eleven prisoners were taken from the hospital in Zvornik to the military infirmary in the Zvornik Brigade barracks in Karakaj where they were executed soon afterwards.
As he answered prosecutor Hasan's questions, Dr. Gavric couldn't specify how the patients' injuries had been inflicted. As he explained, because of the protests by the local Serbs and some other patients, he had ordered the wounded men to be segregated from the other patients in the hospital.
The summary of his testimony in 2007 indicated that the wounded were Muslims. However, in his responses to the judges, Dr. Gavric said that in July 1995 he didn't know that because he 'didn't pay attention to their names' in the documents he had received. According to Dr. Gavric, he didn't know that the wounded Muslims were transferred to the military infirmary in the Zvornik Brigade. The witness took it for granted that they were taken to Tuzla. 'We didn't communicate much with Tuzla at the time and I couldn't get any information from there', the witness explained.
General Tolimir, who represents himself, didn't have any questions for Dr. Gavric. The judges rejected the prosecution's request for re-examination, deciding that the discrepancies between the witness's evidence in 2007 and today did not call for his impeachment, which had been the prosecution's intention.
The trial of Zdravko Tolimir continues on Monday with the evidence of another prosecution witness.