Home
EVACUATION OR FORCIBLE EXPULSION
According to former worker in the UN civilian mission in BH Edward Joseph, when Mladic's troops entered the enclave in July 1995 the people were not evacuated from Zepa, but forcibly expelled. Joseph is testifying for the prosecution at the trial of Zdravko Tolimir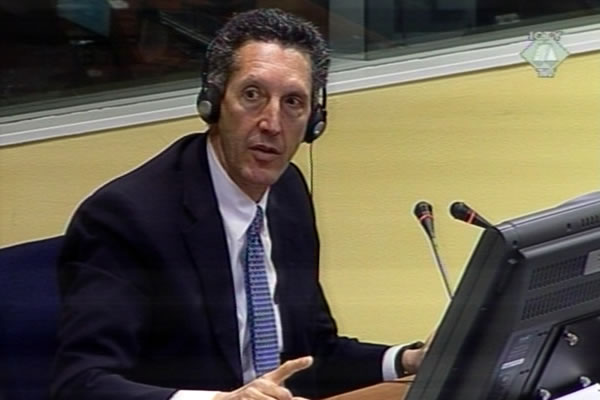 Edward Joseph, witness at the Zdravko Tolimir trial
Edward Joseph is testifying for the prosecution at the trial of Zdravko Tolimir. In July 1995, Joseph was in Zepa as an UNPROFOR civil affairs officer. Zepa, a protected area, came under attack by Mladic's troops after they took Srebrenica. Joseph's colleague in Zepa was Ukrainian Viktor Bezruchenko. In August 2007, Joseph testified about his mission in Zepa at the trial of the seven Bosnian Serb military and police officers charged with the crimes in Srebrenica. The transcript of the testimony was admitted into evidence today at the trial of Mladic's former assistant for security in the VRS Main Staff. Tolimir is charged with genocide and other crimes in Srebrenica and Zepa.
Joseph's superior was David Harland, chief of the UN civil affairs in BH. Harland reported on the situation in Zepa to the senior civil affairs officer. After the prosecutor showed the witness a series of Harland's reports, the witness confirmed that he and Bezruchenko were the sources for some of the information contained in the reports.
Joseph also confirmed that he had contributed to some of Harland's assessments in the reports. For example, before Mladic's troops entered Zepa, the witness thought 'the Serbs will not launch an infantry attack on the enclave before they exhaust it completely'. Joseph explained what he meant when he used the word 'exhaust': to isolate the enclave, to cause shortages, and to shell non-military targets.
One of Harland's reports speaks about a plan for the 'evacuation' of people from Zepa. The prosecutor asked why the word 'evacuation' was in quotation marks. The procedure was more akin to 'a forcible expulsion' than an evacuation 'of the kind you'd see following a natural disaster', the witness replied. Judge Niamba asked the witness if a proper evacuation as he'd described it was possible at all in a war. Joseph maintained it was, supporting his claim with the recent evacuations from Libya caused by the clashes between the government forces and the anti-government protesters.
At the beginning of the cross-examination, General Tolimir remarked that in his evidence Joseph presented a 'series of assumptions' because the prosecutor asked him some hypothetical questions. Tolimir, who represents himself, will continue cross-examining Joseph tomorrow.