Home
SIMANIC CAN'T RECALL SIGNING KEY COMBAT REPORT
Mile Simanic signed a combat report stating that 'about 1,000 to 1,500 enemy soldiers and civilians were arrested killed' in July 1995 in the Konjevic polje area. At the trial of Zdravko Tolimir Simanic recognized his signature but couldn't remember signing the document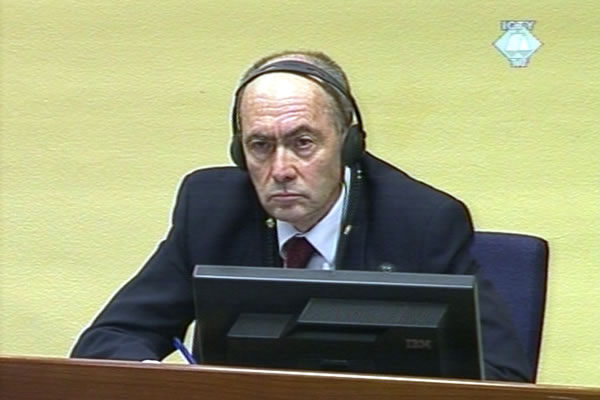 Zdravko Tolimir in the courtroom
On 14 July 1995, the 5th Engineers Battalion of the VRS Drina Corps informed the command that its soldiers 'in cooperation with the MUP forces successfully engaged the enemy' and that '1,000 to 1,500 enemy soldiers and civilians were arrested killed'. According to the indictment against General Zdravko Tolimir, more than 1,000 Muslims captured after the fall of Srebrenica were killed on 13 July 1995 near Konjevic polje, in a warehouse at a farm in Kravica.
The combat report for 14 July 1995 was signed by deputy battalion commander Mile Simanic, who was called as a witness at the trial of Mladic's assistant for security in the VRS Main Staff. In July 1995, Simanic's battalion guarded the barracks and the ammunition depot in Konjevic polje. There were too few soldiers – only about 20 – and the barracks were further secured by mine fields laid on two sides. Simanic claims that his unit had no combat tasks except 'guarding the barracks'. The prosecutor then showed the witness a document describing successful combat activities of the battalion troops and asked him if he had signed the document.
Simanic recognized his signature but didn't remember signing the combat report. The witness explained that he often signed blank documents that were later filled in with text or simply didn't bother to read them before signing. Commander Andjelkovic was usually in charge of administrative tasks in the battalion, Simanic explained. As Andjelkovic was away at the time, Simanic filled in for him. According to Simanic, the information about a large number of 'enemy civilians and soldiers who were arrested killed' came to the battalion headquarters from the soldiers who came back from their regular leave. The fact that two soldiers from the battalion were injured on 13 July 1995 while on guard duty in the barracks in Konjevic polje showed, according to Simanic, that 'something was going on'.
Simanic claimed that he didn't write or read the report and didn't remember signing it. He noted nevertheless that the superior command should have been notified about the events so that it could check them, since the battalion 'didn't have intelligence officers who could do it'.
The accused general is representing himself in his trial. In the cross-examination, Tolimir showed the witness some reports the Drina Corps sent to the VRS Main Staff on 14 and 15 July 1995. The reports make no mention of 'the enemy soldiers and civilians who were arrested killed' that the combat report from Simanic's battalion speaks about. The witness agreed with the accused general that the Corps command concluded after checking the information that it was not worth being included in a report to be sent to the VRS Main Staff.
General Zdravko Tolimir's trial continues tomorrow.