Home
PROSECUTION ORDERED TO AMEND THE INDICTMENT AGAINST FORMER KLA COMMANDERS
The Trial Chamber accepted the motion of Lahi Brahimaj's defense to delete his name from two counts in the new indictment for crimes in Kosovo. The motion filed by Ramush Haradinaj's defense to reduce the scope of the joint criminal enterprise for the KLA crimes was dismissed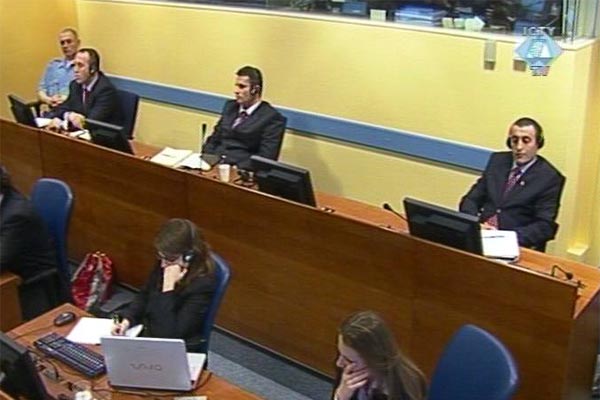 Ramush Haradinaj, Idriz Baljaj and Lahi Brahimaj in the courtroom
The Trial Chamber with Judge Moloto presiding ordered today the prosecution to amend the new indictment against the former KLA leaders for crimes against Serbs, Albanians and Roma in Jablanica. The prosecution has recently amended the indictment for the purposes of the re-trial, limiting it to the six counts related to the Jablanica prison camp, in line with the last year's appellate judgment.
In its decision, the Trial Chamber granted the request of Lahi Brahimaj's defense to delete his name from counts three and five of the new indictment. Those counts refer to an incident in which protected witnesses 6 and 3 were beaten up, and Kosovo Albanians Pal Krasniqi and Skender Kuqi were killed. The judges accepted the defense argument that Brahimaj had already been sentenced to six years on those counts by the Trial Chamber. The appellate judgment affirmed Brahimaj's six-year sentence.
Today the Trial Chamber in its decision ordered a minor correction in the new indictment. In one place in the indictment, it is alleged that Brahimaj commanded the Jablanica prison camp from April 1998 and at another that the prison camp was founded in May 1998. The dates must be fixed.
In line with the Appeals Chamber's decision, the case will be retried only on the counts referring to the crimes in the KLA prison camp in Jablanica, and Haradinaj's defense therefore wanted the scope of the joint criminal enterprise in the new indictment to be limited only to that area, not to the whole Kosovo. The judges, however, consider that the Appeals Chamber in its judgment 'did not reduce the scope of the joint criminal enterprise but the participation of the accused therein'. All six counts in the indictment allege the responsibility of the three former KLA commanders only for the crimes in Jablanica. This is why the judges believe that the indictment shouldn't be amended in that respect. At the same time, the demand made by Haradinaj's defense to limit the prosecution case only to the events in Jablanica in the re-trial was dismissed.
The prosecution must amend the new indictment by 21 January, as ordered by the Trial Chamber. Once this is done, the partial re-trial of Haradinaj, Balaj and Brahimaj can start.