Home
PROSECUTION: 'DECISON TO PROVISIONALLY RELEASE HARADINAJ UNREASONABLE'.
The prosecution urged the Appeals Chamber to quash the Trial Chamber's decision to provisionally release Ramush Haradinaj during the Tribunal's winter recess. 'No reasonable trial chamber' could decide that Haradinaj's stay in Kosovo would be an insubstantial threat to the integrity of the proceedings, the prosecution argued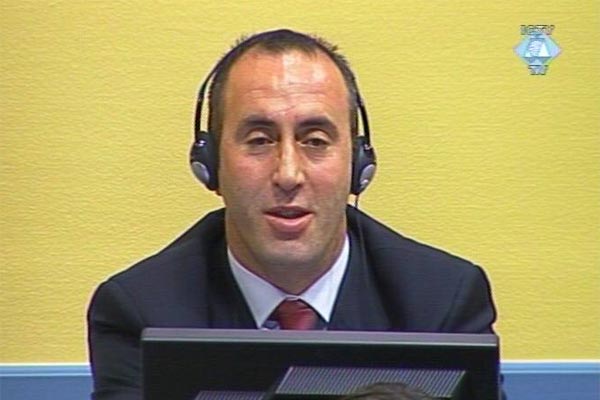 Ramush Haradinaj in the courtroom
The prosecution contends that Judge Moloto's Trial Chamber reached an 'unreasonable decision' when it granted the defense's motion for provisional release of Ramush Haradinaj during the Tribunal's winter recess from 17 December 2010. The enforcement of the decision has been stayed until the Appeals Chamber rules on the appeals.
The prosecution's motion also notes that Judge Moloto's Trial Chamber initially rejected Haradinaj's motion for provisional release in September 2010, finding that the 'the position of
witnesses in the partial retrial will be highly sensitive".In its decision to grant provisional release, the judges said that the 'atmosphere of witness intimidation remains prevalent in Kosovo' and that Haradinaj's provisional release 'will add to the threatening atmosphere for witnesses and may encourage his supporters to engage in acts of intimidation'. Having that in mind, the prosecutor contends, 'no reasonable trial chamber' would conclude that Haradinaj's stay in Kosovo would be an insubstantial threat to the integrity of the trial – as the Trial Chamber itself noted in its decision.
The prosecution argued it was unreasonable and wrong to conclude that the danger for witnesses was reduced if Haradinaj stayed in Kosovo for a 'relatively short" period of four weeks which are not temporally close to the date when the partial re-trial is set to begin.
Haradinaj's defense urged the judges to dismiss the 'groundless' appeal, maintaining that the prosecution has failed to prove that the Trial Chamber erred when it granted provisional release to their client. In their reply to the prosecutor's motion, the defense lawyers noted that the judges had considered all relevant factors and did not err in their decision.
Patrick Robinson, the Tribunal's president, would be the presiding judge in the Appeals Chamber, it was decided today. The other members are judges Fausto Pocar, Liu Daqun, Andresia Vaz and Theodor Meron. It is likely that their decision will be handed down by the end of this week.
In April 2008, the Trial Chamber acquitted former KLA commanders Ramush Haradinaj and Idriz Balaj of all charges for crimes in Kosovo in 1998. Lahi Brahimaj – whose motion for provisional release was rejected – was sentenced to six years. The Appeals Chamber ordered a partial re-trial on the counts in the indictment alleging crimes in the KLA prison camp in Jablanica because the witnesses had been so intimidated that they refused to give evidence. The trial on the new indictment is expected to begin in first few months of 2011.