Home
SHEFQET KABASHI'S EVIDENCE POSTPONED FOR MONDAY
The former KLA member will have a new chance to testify at the trial of Haradinaj, Balaj and Brahimaj on Monday, instead of today, to have time and prepare 'physically and mentally'. Until now Kabashi has refused to give evidence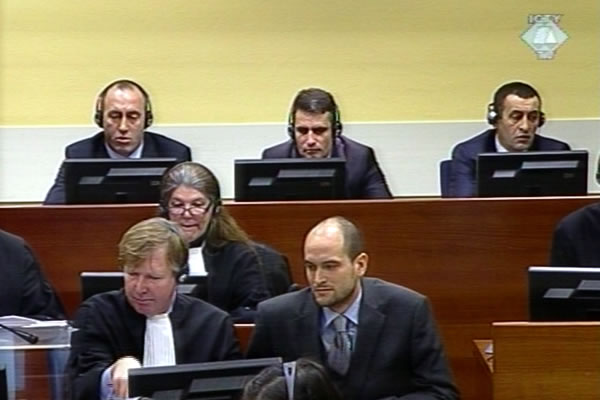 Ramush Haradinaj, Idriz Balaj and Lahi Brahimaj in the courtroom
Judge Moloto's Trial Chamber today granted the defense motion to postpone the evidence of former KLA member Shefqet Kabashi at the trial of Ramush Haradinaj, Idriz Balaj and Lahi Brahimaj until Monday.
Kabashi's defense lawyer Michael Karnavas claimed in his motion that his client 'had been stuck in the Dutch administrative system' following his arrest two days ago at the Amsterdam airport. This resulted in a one-day delay of his transfer to the Tribunal's Detention Unit, and didn't have time to prepare for his testimony. Karnavas added that Kabashi hasn't slept for days and was 'physically and mentally exhausted'; it wouldn't be fair to expect him to testify today in the courtroom.
Karnavas is representing Kabashi in the contempt of court proceedings. In 2007, Kabashi refused two times to testify before the Trial Chamber at the trial of former KLA leaders Haradinaj, Brahimaj and Balaj for crimes on Kosovo in 1998. The trial ended before Kabashi and another protected witness testified and Haradinaj and Balaj were acquitted. Brahimaj was sentenced to six years. The Appeals Chamber found that the trial had ended prematurely and ordered a re-trial on six counts in the indictment for crimes in the KLA prison camp in Jablanica. The two unwilling witnesses are supposed to speak about them in their evidence.
This morning Kabashi postponed his plea on contempt of court charges. Next week, Kabashi will first appear on Monday morning to testify in the Haradinaj, Balaj and Brahimaj case and on Friday afternoon, Kabashi will be invited to enter his plea on the charges against him.
Waiting for Kabashi to testify, the prosecution today filed a motion seeking to tender into evidence statements of three witnesses who will not appear in the courtroom after the defense decided not to cross-examine them. The three witnesses are a protected witness with the pseudonym 79, and two Serbs from Kosovo, Mijat and Dragoslav Stojanovic. At the previous trial of the former KLA commanders, the witnesses claimed they had been beaten in the KLA headquarters in Glodjani in April 1998 and that the first accused Haradinaj had taken part in the beating. The Trial Chamber decided that the first exhibit to be admitted under seal was the statement of Witness 79. The remaining material will most likely be admitted into evidence after the defense lawyers go through it.