Home
NEW TRIAL OF HARADINAJ, BALAJ AND BRAHIMAJ OPENS TOMORROW
A pre-trial conference was held today before the beginning of a partial re-trial of the former KLA leaders. The prosecution indicated it would call 56 witnesses. Most of the evidence will be tendered through transcripts from the previous trial of Haradinaj, Balaj and Brahimaj. Ramush Haradinaj's defense will deliver its opening statement tomorrow after the prosecution completes its opening statement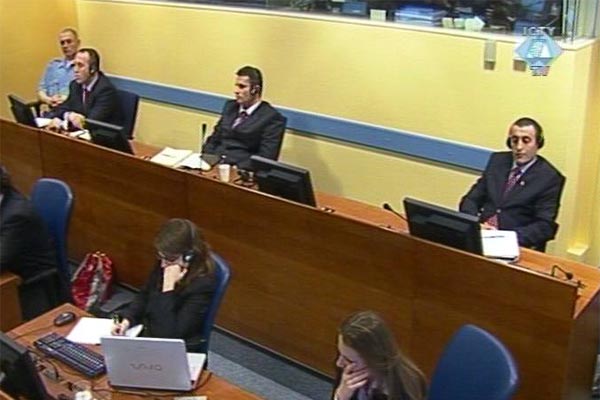 Ramush Haradinaj, Idriz Baljaj and Lahi Brahimaj in the courtroom
A partial re-trial of former Kosovo Liberation Army commanders Ramush Haradinaj, Idriz Balaj and Lahi Brahimaj begins tomorrow with the prosecution's opening statement. Prosecutor Paul Rogers will address the judges. At the pre-trial conference today the prosecution indicated that opening statement will last two to three hours. Haradinaj's defense will follow with a one-hour opening statement. The defense lawyers of the two other accused have waived their right to an opening statement at this stage of the trial.
Other administrative issues were discussed at the pre-trial conference. The prosecution indicated that it intended to call a total of 56 witnesses. Most of them will not appear in the courtroom; the plan is to tender their statements to the OTP investigators and transcripts of evidence from the previous trial of the KLA commanders. The prosecution has asked for 36.5 hours to examine its witnesses in the courtroom. It was disclosed today that former employee of the Serbian State Security Service Zoran Stijovic and former chief of the KLA Main Staff Bislim Zyrapi were among the witnesses. The witnesses slated to give evidence in the first two weeks of the trial were discussed today in closed session.
The former KLA commanders will be tried on the new indictment charging them with taking part in the joint criminal enterprise aimed at abusing Serbs, Albanians and Roma. The objective of the enterprise was implemented through murder and torture of prisoners held in the KLA prison in Jablanica. At the first trial, Haradinaj and Balaj were acquitted on all 37 counts in the indictment that charged them with crimes in Kosovo in 1998. Brahimaj was sentenced to six years. The Appeals Chamber overturned the Trial Chamber's judgment and ordered a new trial on six counts in the indictment. According to the Appeals Chamber, the prosecution case should not have ended until two unwilling witnesses were heard. The witnesses are a former guard in the KLA Jablanica prison camp, Shefqet Kabashi, and a prisoner whose identity is protected.
Presiding judge Bakone Moloto repeated at the hearing that a 'new trial' would open tomorrow and that the Trial Chamber would proceed as if 'there had been no previous trial at all'.