Home
HARADINAJ TO REMAIN IN DETENTION
The Appeals Chamber quashed the Trial Chamber's decision to provisionally release former KLA leader Ramush Haradinaj. In the opinion of the Appeals Chamber, the Trial Chamber's decision is 'so unreasonable as to constitute an abuse of its discretion'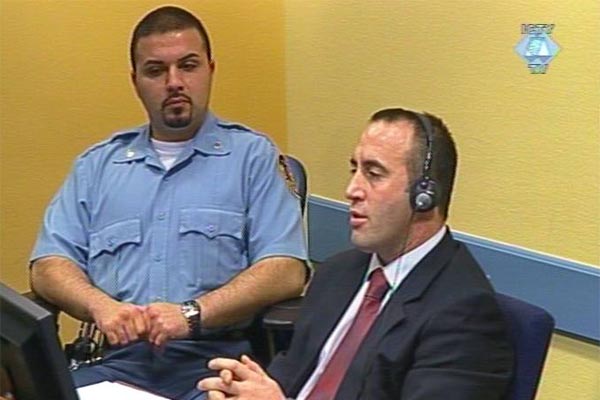 Ramush Haradinaj in the courtroom
The Appeals Chamber today accepted the prosecution's arguments and quashed the Trial Chamber's decision to provisionally release former KLA commander Ramush Haradinaj.
In the statement of reasons, the Appeals Chamber says that the Trial Chamber's decision was 'so unreasonable as to constitute an abuse of its discretion'. Having noted 'significant factors which strongly militate against granting Haradinaj provisional release, the Appeals Chamber considers that it was incumbent upon the Trial Chamber to exercise its direction accordingly", the appellate judges concluded.
The decision notes that the Trial Chamber decided to provisionally release Haradinaj despite its own conclusion that 'an atmosphere of intimidation of witnesses' still prevailed in Kosovo and that granting Haradinaj provisional release 'may result in an increase of threats and intimidations'.
When it decided to grant provisional release to the accused, the Trial Chamber took into consideration the relatively short duration of the requested provisional release, the uncertainty regarding the start of the new trial and the time Haradinaj has spent in the Detention Unit after the Appeals Chamber's judgment. The Appeals Chamber finds those circumstances 'are insufficient to obviate the Trial Chamber's acknowledged concerns regarding the potential for witness intimidation or the inherent risk to the integrity of proceedings".
In April 2008, the Trial Chamber acquitted former KLA commanders Ramush Haradinaj and Idriz Balaj of all charges for crimes in Kosovo in 1998. The third-accused in the same case, Lahi Brahimaj was sentenced to six years. In July 2010, the Appeals Chamber ordered a partial re-trial on six counts in the indictment about the crimes in the KLA prison camp in Jablanica precisely because some intimidated witnesses had refused to testify. The trial on the new indictment is expected to begin in the first half of 2011.